Back To School: COVID-19 Advice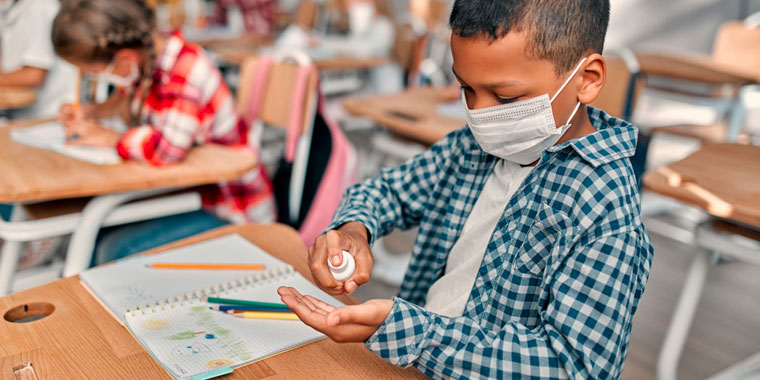 Find Your Perfect Match
Answer a few questions and we'll provide you with a list of primary care providers that best fit your needs.
As schools prepare to welcome back students, teachers, and staff, "we're in a better place than we were last year," family medicine physician Joseph Allen, MD, Premier Physician Network Regional Medical Director, shared with Premier Health Now.
At the same time, Dr. Allen, the husband of a teacher and father of two school-age children, acknowledges that the Delta variant, a more contagious strain of COVID-19, is increasing the spread of the respiratory illness.
With this in mind, he gave us advice on how to lower the risk of COVID infection as area schools are planning to return to in-person education — a decision that he, his wife, and the American Academy of Pediatrics (AAP) support for the academic, social, and mental well-being of children.
"It does seem to be a huge benefit for students to have in-person learning," Dr. Allen says.
He adds, "The risk of COVID to each individual student is generally very low — even if they do contract it, or they haven't had the immunization yet. You could reasonably argue that there's a potential for spreading COVID by having kids in school, but we didn't see that last year."
In-school mask wearing is another recommendation of the AAP, for anyone over age 2, regardless of vaccination status.
The Centers for Disease Control and Prevention also has recommended that fully vaccinated people wear masks indoors, in areas with "substantial" and "high" COVID-19 transmission — about two-thirds of U.S. counties.
How To Lower Your Risk
Each school district will need to decide what works best for their community, Dr. Allen told us. If your school district makes mask-wearing optional, he adds, "then the parent and student have to decide what's right for them and how much risk they're willing to take."
Cautioning that there's nothing in life that's "zero-risk," Dr. Allen offers this advice to reduce the risk of spreading the virus in school, at home, and in the community:
Wear a mask. "If your child wears a mask, it's going to be less likely for them to bring something home, and their risk of contracting an infection is even lower. It's not going to be zero, but it's going to be lower."
He adds that if children can't wear a mask, "that's OK. Just monitor them for symptoms. If they start to show symptoms, be sure you're doing as much as you can to protect yourselves."
Practice good hand hygiene. Remind your children to wash their hands frequently. And do what you preach.
Get vaccinated if you can. "Vaccines are our best defense against COVID. If a parent has been vaccinated and kids bring the virus home, there's not a lot of risk for the parents, or the grandparents."

"I know there are a lot of folks out there who have decided to forgo the immunization, but the mRNA-based vaccines seem to produce a very good immune response, even against the variants."

He cautions that if you previously had a COVID infection, "you could still be infected by the variant, despite having some natural immunity."
Get up-to-date information from reputable sources. He adds, "Find somebody you trust and can talk to about it (like your physician) if you need to." Dr. Allen says that he occasionally talks with people who've been misled by claims about the vaccines, such as their allegedly causing infertility. This has been disproven, he assures them.

"Getting accurate information is the best thing we can do for ourselves."
Find Your Perfect Match
Answer a few questions and we'll provide you with a list of primary care providers that best fit your needs.
Source: Joseph Allen, MD, Premier Physician Network Regional Medical Director; American Academy of Pediatrics; Centers for Disease Control and Prevention; WHIO