Cervical Cancer and HPV Screenings Can Catch Disease in Earliest Stages
Following guidelines, keeping yearly appointments vital in disease prevention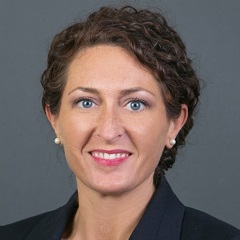 DAYTON, Ohio (November 11, 2019) – Women who are diligent about keeping their yearly gynecological exams are more likely to detect cancer before it even develops.
Nearly all cases of cervical cancer are caused by high-risk types of the human papillomavirus, or HPV. According to the National Cancer Institute, just two of the high-risk types of HPV make up 70 percent of all cervical cancers. Thankfully, cervical cancer caused by these two high-risk types of HPV and those that are not can often be detected in their precancerous stages through yearly exams.

The HPV test is done at the time of a pelvic examination and pap smear. It's a swab sample collected from the cervix that is used to test for the forms of HPV known to place a woman at risk for cervical changes or genital warts.
Under the most recent guidelines, women should receive a cervical cancer screening beginning at the age of 21, and not prior to that. Women ages 21 to 29 should receive the screening every three years. Women ages 30 to 64 should receive a pap smear and HPV screening every five years as long as previous exams do not come back abnormal.
Women should not confuse cervical or HPV screening recommendations with the need to continue a yearly appointment with a gynecologist. A yearly appointment covers much more than cervical screenings such as breast and pelvic exams.
Screening recommendations have changed over time largely due to the ever-evolving discoveries about cervical cancer and HPV, said Susan M. Emmerling, MD, an OB/Gyn with Lifestages Centers for Women.
"The medical community has just begun to learn about the nature of HPV and how long a person stays infected by it," said Dr. Emmerling, who practices with Premier Physician Network. "As we learn more, we are able to come up with more appropriate screening guidelines that impact the rates of cervical cancer in a positive way while also limiting unnecessary testing to patients."
The rates of cervical cancer in the past 50 years in the United States has fallen dramatically – a trend that is largely attributed to pap smear screenings.
"Cervical cancer will often begin as pre-malignant, which can be discovered through a pap smear or HPV testing," Dr. Emmerling said. "So, we are often able to find these signs of pre-cancer before it progresses into actual cancer."
For this reason, Dr. Emmerling said women shouldn't automatically be anxious when they find out a cervical cancer screening has come back abnormal.

"An abnormal screening should not cause a woman to instantly become anxious," she said. "More than likely, if a pap smear comes back abnormal, it's because there is some degree of HPV-driven changes present on the survey, many of which will be resolved on their own and do not require additional treatment. An abnormal pap smear should prompt a woman to make sure she is being followed up appropriately by her gynecologist."
In the end, the goal is prevention of cervical cancer, which can be achieved through continued vaccination of HPV.
"We love to detect pre-cancerous changes and act on them when necessary," Dr. Emmerling said. "But we can decrease the number of HPV infections period – along with the additional follow-up needed or anxiety that it often causes – by making sure every young man and woman is vaccinated."
For more information on cervical screening and HPV or to find a Premier Physician Network physician near you, visit our Find a Doctor page.