Relief is Available for Patients with Common Hand Disorder
Dupuytren's contracture can impact person's quality of life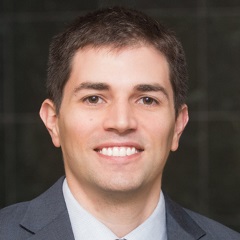 DAYTON, Ohio (May 13, 2019) – Despite its unusual sounding name, Dupuytren's contracture is a common and treatable disorder that surgeons see on a fairly regular basis.
Dupuytren's contracture is a gradual thickening of tissue that takes place just beneath the surface of the skin in a person's palm and fingers. As tissue thickens, thick cords can form and force fingers to contract inward, making it impossible to straighten.
"Dupuytren's contracture is not like a cancerous growth or tumor," said Matthew Cavo, MD, a hand surgeon with Hand & Reconstructive Surgeons & Associates. "It's not life-threatening at all. It's an overgrowth of the normal tissue that everyone has. It organizes itself into these bands or cords that restrict a finger's motion."
Dr. Cavo explains that the disorder is more common in older men over age 40, and it is sometimes referred to as the "Viking's Disease" since it occurs more commonly in people of Northern European or Scandinavian descent.
"Though we know there is certainly a genetic component, we don't know the exact cause of it," said Dr. Cavo, who practices with Premier Physician Network. "We just know that the normal cells over time produce this tissue and that causes a restricted motion."
Physicians are also not sure of how to prevent Dupuytren's contracture from occurring, though maintaining good bone health and staying physically active may help prevent it in some way. If someone develops a contracture, however, it is good to know that treatments exist that can help alleviate the symptoms.
Though Dr. Cavo stressed that treatment isn't always a necessity, he described the following options for patients and their doctors to consider:
Enzyme injection - The patient receives a one-time injection of an enzyme that helps dissolve the cord and allows the doctor to break the cords, restoring the patient's normal range of motion.
Needle aponeurotomy- After administering a local anesthetic to the patient, a physician uses a small needle to slowly break apart the restrictive cords to restore range of motion.
Surgery- Open surgery uses a more invasive technique to cut away at the cords which are causing the contraction and may be prescribed depending upon the level of contraction.
Regardless of the treatment chosen, Dr. Cavo said they all share one thing in common – the risk for reoccurrence.
"One of the downsides for any of these interventions is that the reoccurrence of Dupuytren's is almost 100 percent," Dr. Cavo said. "If you live long enough, it's going to come back. Still, many times the recurrence is not as severe and people don't always need a procedure because it's just restricting their motion a little bit. It's fairly common and people should get it looked at if it's bothersome to them. A relatively small procedure can offer them a pretty significant improvement in their daily life."