Anticipation of Panic Attack May Be Worse Than Experiencing One
Patients should be encouraged to seek help, avoid fear and isolation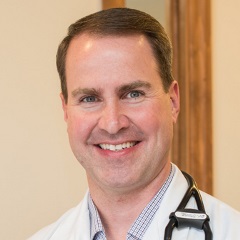 DAYTON, Ohio (May 13, 2019) – The symptoms of a panic attack can be so sudden and strong that the person who has experienced it may be left living in fear of having another one.
A panic attack is a sudden, intense feeling of fear accompanied by symptoms such as palpitations, tremors, shortness of breath, choking, and even a strong feeling that one is about to die. Panic attacks are a part of panic disorder, a disorder defined by debilitating anxiety and fear that arises frequently and without reasonable cause.
"The cause of panic attacks is really unknown," said Dr. Matthew Stone, DO, a family physician with Middletown Family Practice. "It could be either genetic or environmental and we don't exactly even know what the trigger is."
Dr. Stone stresses that the difficulty with panic attacks is that they can be so unpredictable. People can experience as many as several a day or may have one or two per year. This unpredictability can be crippling for some and force them to isolate themselves socially out of fear that a certain setting may trigger another attack. Unfortunately, this can lead to even more problems since it doesn't properly address the issue or identify the actual trigger.
Despite the unknown origins of panic attacks, there is hope for patients who are encouraged to seek medical treatment.
"Treatment of panic disorder is available for patients through the use of medication or with psychotherapy," said Dr. Stone, who practices with Premier Physician Network. "In fact, both psychotherapy and medications are equally effective. One study suggests that the two together are even more effective than one alone."
Medications that are typically prescribed are known as selective serotonin reuptake inhibitors, or SSRIs, such as Paxil or Prozac or Zoloft.
"Each of these is very effective at decreasing the disorder," Dr. Stone said. "Psychological therapy for panic attacks includes things like cognitive behavioral therapy or mindfulness training."
Panic attacks should always be thoroughly evaluated by a health care provider since it is important to determine if a person is experiencing a panic attack, or something else altogether. There are many other physical and psychological conditions that mimic panic attacks such as cardiac, pulmonary, and endocrine disorders.
Dr. Stone advises patients to seek immediate medical treatment if they are having panic attack symptoms lasting longer than ten minutes to rule out a potential cardiac or neurological condition.
"When in doubt, it's always a good idea to consult with your physician," said Dr. Stone. "Family members can also play an important role for a loved one experiencing symptoms. One of the most important things you can do is to just sit with them, remain calm, hold their hand, and be very reassuring."