Recap Summer Safety Steps to Avoid Preventable Tragedies
Pools, campfires most common areas of concern when it comes to accidents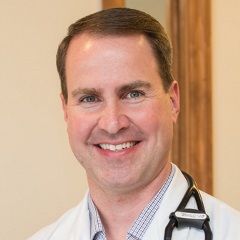 DAYTON, Ohio (June 8, 2017) – The lazy days of summer can quickly turn into an unforgettable tragedy when small steps are ignored in pursuit of convenience and fun.
Drownings, severe sunburns, campfire accidents and heat stroke incidents are all serious problems that can easily be avoided if the right precautions are taken, said Matthew Stone, DO, a family physician with Middletown Family Practice.
"Some of the most common hazards I see in family practice during the summertime deal with dehydration, sun safety and pool safety," said Dr. Stone, who also added that reckless play around campfires and a misunderstanding of the dangers of sparklers are also issues he sees in his patient population.
Dehydration is perhaps one of the most deceptive health issues during summer because it sneaks up on a person before they know they are experiencing it, he said.
"Everyone assumes they are well hydrated because water is so accessible," said Dr. Stone, who practices with Premier Physician Network. "Often, the symptoms are there before someone realizes it is a problem. People who are experiencing a headache and not urinating much may already be on their way to heat exhaustion."
Pool safety is another issue that usually isn't top of mind for most, however, statistics show that improper supervision around water can lead to drownings. Nearly 400 children under the age of 14 die each year from drownings, 75 percent of which happen in residential pools, according to the Residential Pool Safety Policy, a policy from the American Academy of Family Physicians.
Few would argue that fire pits and fireworks play a big role in the appeal of summer, but they also create a ripe environment for accidents.
"I think the biggest thing is what people are doing before they even start the fire," Dr. Stone said. "This includes using flammable liquids before starting a fire, placing fires too close to flammable objects and not taking steps to properly supervise a fire."
Accidents are plentiful during the summer months, but fear that they could happen should never keep someone from enjoying the season. Dr. Stone said the following guidelines can ensure summer safety:
Determine your distance – Keep a healthy distance between you and the flames when enjoying a fire pit. Adults should monitor children around a fire and help them when using the fire to roast food such as marshmallows. Distance plays a vital part in reducing the risk for drownings. Dr. Stone said parents should always be within reach of the children they are supervising in a pool. Guardians should have the ability to reach out and rescue at any time.
Choose wisely – Sparklers are beautiful on a warm summer night, but can be dangerous in the hands of children. About 25 percent of burns that present at emergency rooms are from sparklers. These individual sticks of fire can actually burn up to 1,200 degrees Fahrenheit, which is 300 degrees hotter than what is used to melt glass, according to the National Fire Prevention Association. Consider giving children glow sticks instead.
Start early – Those who plan to be in hot summer weather should protect their skin and prevent heat exhaustion. Dr. Stone said people should look at the sun as a big ball of radiation a nice coat of 30 SPF sunscreen as their body's armor. Apply the sunscreen prior to leaving the house or stepping out of shade. Likewise, drink plenty of water prior to spending time in the heat so that the body is not playing catch up later on.
"You have to plan on being hydrated before you even start your day," Dr. Stone said. "Most Americans already don't drink enough water so know how to measure your hydration status by monitoring your urine color. The darker the color, the more trouble you are in."
Click here for more information on summer safety or to find a Premier Physician Network physician near you.