Nurse Practitioners Become Important Part of Healthcare Growth
Mid-level providers help address physician shortage, increase in patient coverage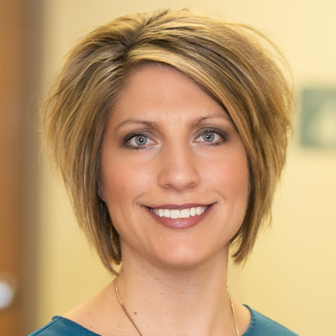 VERSAILLES, Ohio (January 19, 2015) – Jennifer Phlipot spent a decade working in a hospital as a registered nurse and loved it. But three years ago, she was ready to take her career to the next level and deepen her involvement in patient education and wellness.
Pursuing her master's degree to become a nurse practitioner (NP) seemed the next best step. As an NP, Phlipot would not only realize her dream of following patients through their continuum of care, but also play an important role in the future of healthcare. The need for nurse practitioners has been fueled by a dip in the number of medical students pursuing primary care coupled with a jump in the insured population.
Today, Ms. Phlipot handles a growing patient load in the primary care setting at Stillwater Family Care in Versailles. Under the direction of the physicians in the practice, she performs patient history and physical exams, diagnoses disease, orders lab work and diagnostic testing, prescribes most medications and educates patients about their health. Most importantly, her presence enables the practice to offer patients same-day sick appointments – something that has become increasingly difficult for some primary care providers to offer.
NPs were in high demand when Ms. Phlipot graduated from her master's program. As a Versailles native, she had her sights set on serving the local community and was thrilled when she was hired by Premier HealthNet to work at Stillwater Family Care. Phlipot is one of several nurse practitioners brought on board Premier's primary care physician network in the past year as a way to better serve its patient population.
"Over the last few years, there has been a decline in the number of primary care physicians and a dramatic increase in the nurse practitioner profession," said Ken Prunier, president and CEO of Premier HealthNet. "Placing a nurse practitioner in an office allows us to change to a more cost effective care team model: Practices can continue to offer patients same-day appointments, offer more health services and deliver a unique caretaking model of nursing that includes more comprehensive, personalized education and counseling."
According to the Association of American Medical Colleges, the country will be short more than 65,000 primary care physicians by 2025. In contrast, the NP role is growing exponentially. Studies, like those conducted by national research firm RAND Corp. , estimate the NP workforce will grow to 244,000 in 2025, an increase of 94 percent from 128,000 in 2008.
Like many in the healthcare industry, Ms. Phlipot has also seen the effect of the Affordable Care Act firsthand, which offers some 32 million Americans new access to health insurance.
"What I love most about my position is my interaction with patients that can result in positive change that continues throughout their lifetime," Ms. Phlipot said. "I get to see how little changes, and a little bit of education, can optimize their health and help them realize their goals. Most of all, I love the relationships I am able to form."
To find a Premier HealthNet physician or nurse practitioner near you, visit www.premierhealthnet.com/doctor.