Nancy Hampton-Jones, MS, APRN, AOCNS, AGCNS-BC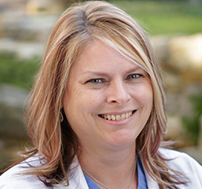 Nancy Hampton-Jones earned her Bachelor of Science degree in Nursing from Miami University and her Master of Science degree in Nursing from Wright State University.

She works as a Surgical Neuro-Oncology Coordinator, assessing and treating in the outpatient setting and rounding in the inpatient setting. Prior to joining the Clinical Neuroscience Institute, Nancy worked in the Emergency Department and as a supervisor of Oncology Services at Mercy Health Partners in Cincinnati.