Premier Health Nursing Shared Governance Evolves
By Kelly Sodders, BSN, RN, NE-BC
Annette Drake, MS, RN, CRRN, CBIS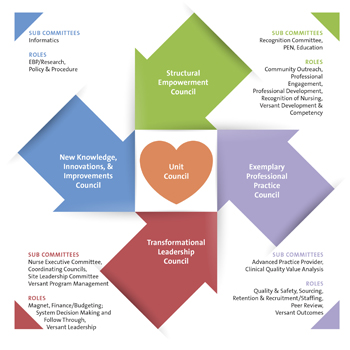 Premier Nursing Shared Governance is celebrating 18 months and continues to evolve. One of the newest and exciting developments is the partnership with the Versant Residency program. Versant subcommittees will be integrated in the Premier Shared Governance councils beginning in August as a means for strengthening partnerships with the Versant residents, streamlining communication, and increase participation at each facility. The enhanced Shared Governance model looks like this:
Versant committee members will be joining the councils as a standing agenda item on a quarterly basis.
Structural Empowerment: includes Versant Competency & Organizational Development Subcommittee members Amy Clayton, Liz Kempfer and Angela Mathis
Transformational Leadership: includes program managers Kim Barton and Maria Cosler
Exemplary Professional Practice: includes Outcomes subcommittee member Kim Barton
New Knowledge, Innovations, & Improvements: includes Versant Resident PI projects
To learn how Premier Shared Governance continues to evolve, view the SharePoint page for the Nursing Share Governance.
<<Back to Premier Nursing News-October 2017
Source: Premier Health Nursing