Leadership - May 2017
Those recognized in leadership are in nursing management, which includes directors, nurse managers, associate nurse managers, shift managers, project and program managers, administrative officers, shift managers, and other leaders.
The honorees are:
Valta "Val" Brown, RN
Julie Constable, MS, RN
Suzanne "Suzie" Deis, BSN, RN
Julie Elzey, RN
Lisa Faulkner, BSN, RN
Deborah "Debby" Gross, BSN, RN
Heidi Harmer, BSN, RN
Jefferleif "Jeff" Jabola, BSN, RN, RN-BC
Amy Pokorski, BSN, RN
Jamie Shingler, BSN, RN
Valta "Val" Brown, RN
Nursing Team Leader, Emergency Department, Good Samaritan Hospital (closed in 2018)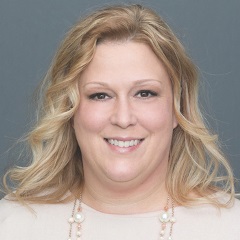 This nurse started a leadership role less than a year ago as the expectations were changing. Not only are the ED team leaders expected to be process and patient flow experts, we are now focused on growing leadership skills as well. She embraced nurse leader rounding, specifically giving feedback to staff. While uncomfortable, she welcomed opportunities to learn how to do this in the most supportive and effective way possible. As all our team leaders began to give feedback, the ED saw improvement in "Communication with Nurses" from under the 50th percentile to the 90th percentile for the very first time EVER! As we began to hire and orient new nurses to the ED, the group was charged with ensuring every shift was covered, including holidays, to support the new RNs in the ED. She willingly accepted this new responsibility. When the team leaders were asked to monitor productivity and flex staff when volume wasn't keeping us busy, she was the first one to try to proactively flex for the next shift. She keeps me informed, has demonstrated the courage to provide real-time performance feedback to staff, and lets me know privately and respectfully when she disagrees, all while maintaining a positive attitude! I'm so happy to have her as part of our leadership team!!
Julie Constable, MS, RN
ICM Team Leader, Integrated Care Management Program, Good Samaritan Hospital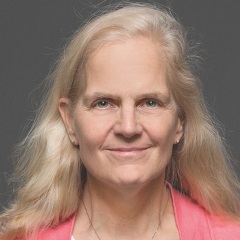 I nominate this nurse because of her drive, passion, and exemplary knowledge and dedication to the profession of nursing and her patients. The nurse is exemplary in her practice and has gone above and beyond to improve the outcome of the patient and their family while they are in the hospital and during the transition of care to and outside the facility or home. She is dedicated to the patient and their family and is in the moment with them to advocate for safe discharges. She demonstrates the core values by respecting the patient and their family while demonstrating integrity and compassion when she needs to advocate for them. Her HEART is demonstrated during readmission meeting when she reflects on meeting and interactions with the family. She has gone above and beyond by conducting the readmissions meeting and coordinating care and suggesting to the readmission team after the meeting. She is a strong, caring, and compassionate nurse who leads by example and serves as a role model for others. She is dedicated to the care of her patients and helping them reduce negative outcomes such as readmission and delay in care transition.
Suzanne "Suzie" Deis, BSN, RN
Nurse Manager, Peri-Anesthesia/Pain, Surgery Administration, Atrium Medical Center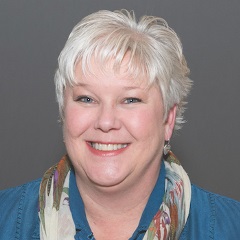 This nurse entered our lives with a wave of laughter and fun. Before she started working with us, morale and nurse retention was very low. As our educator, she made learning fun with silly games to teach and encourage us. We became the department where nurses wanted to work and better their craft. She encourages us to be and do our best for our patients. She juggles all of her responsibilities with the same passion and sense of humor. This nurse has truly transformed the PACU in a short time. She sets the tone for excellence in patient care. She truly embodies the motto of "every patient, every time," and is a prime example of a leader and role model for all. She works diligently to create a team environment through her commitment to implement the periop daily huddle. Additionally, she uses her wealth of experience and knowledge to nurture newer nurses and encourage her staff to develop new skills and abilities. She has the best attitude every day. One of her nurses states, "just seeing her makes the mood lighter in PACU and can turn any bad day into a good one."
Julie Elzey, RN, CTTS
Supervisor of Re-Hospitalization Re-education, Call Center, Fidelity Health Care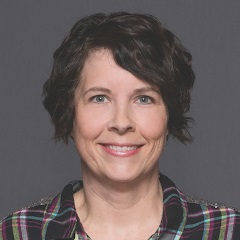 She leads by example, going above and beyond for her patients as well as her team. She walks the walk while making the most of the moments. She demonstrates our core values better than anyone. She respects every patient she interacts with and the employees she supervises. She is compassionate for the patients daily and all of her staff. She is the best supervisor and an EXCELLENT nurse. She takes her title as a nurse very seriously and knows how to be a leader. She is filled with light and love. She makes sure everyone is treated equally and makes sure all needs are met for co-workers and patients. She is a prime example of what a nurse should be: caring, loyal, honest, and compassionate. She puts the patients first and goes above the call of duty to help patients in their recovery after a hospital stay. She is a fierce advocate for patients and their families, demonstrating the actions of a prudent nurse leading by example, and showing great compassion for patients from all walks of life. Her motto during morning huddle is, "You can't begin to know what someone is going through in their personal life; it is not your job to judge but to help try make their life a little better." As a manager, she advocates by taking time to ask daily how we are doing and is there anything she can do to make our day better. A true benefit to the organization.
Lisa Faulkner, BSN, RN
Admission Nurse Coordinator, Bed Control And Patient Flow, Good Samaritan Hospital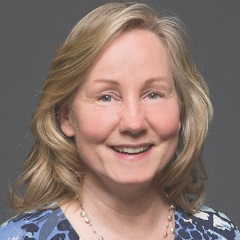 This nurse leader is the definition of "best of the best". She is a transformational leader, excelling in many aspects of her profession and leading by example. In her various roles at Good Samaritan Hospital, she is an educator who is willing to share her expertise and knowledge. She is a patient advocate and administrator in the role of Administrative Officer, overseeing and ensuring efficient patient flow. She is a clinician who is concerned for our patients and their families. This nurse leader also assists our employees in her role as an employee health nurse where she assists in maintaining our employees' well-being. This nurse leader extends her services to the community as an employee of the Disaster Medical Assistance which is under the National Disaster Medical System and the Department of Health and Human Services. She may be called at a moment's notice to protect and support our citizens and our country. This nurse exemplifies Good Samaritan's core values of Respect, Integrity, Compassion and Excellence. She displays leadership qualities by assisting in problem solving by mentoring and encouraging others to believe in their own abilities to excel. Although she excels in many areas, she identifies opportunities for development and progress within her own practice and freely shares her plans for self-improvement with her peers.
Deborah "Debby" Gross, BSN, RN
Manager Therapeutic/Diagnostic Cardiology, Cardiology Administration, Good Samaritan Hospital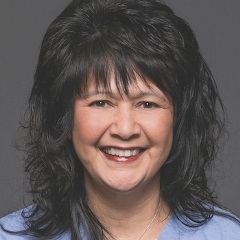 As a manager, this nurse is approachable and an advocate for her staff. Yes, she may have to make decisions that staff may not always agree with but she is concerned about the end result: patient care. Before a change is implemented she will research and get the input of physicians and staff to evaluate if the change is in the best interest of the patient and hospital. She acknowledges her staff for their exceptional care and informs them when she hears comments from patients. She practices an open door policy for mentoring or guidance. She encourages her staff in personal growth, whether that is going back to school or cross training in different departments. She believes in family and here at work she encourages that same type of unity. If there is a time when the staff is overwhelmed or an emergency occurs, she is there to back you. She will get right in there and do whatever needs to be done to ensure that patient is receiving great care and the family is informed on the status of their family member. She worked her way up the ranks to this position and has the practicing knowledge of what it takes to provide the compassionate care that is provided here at Good Samaritan.
Heidi Harmer, BSN, RN
Nurse Manager, Emergency Department, Upper Valley Medical Center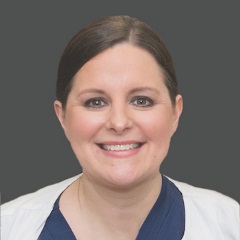 She is an experienced ED nurse who walks the walk on a daily basis, leading by example. She is a strong patient advocate. She is out on the unit and is both visible and available to her staff daily. She walked into a department in need of a leader, and that is what she is! The department has improved greatly with her leadership. She is a nurse with many years of experience taking care of critical patients and she joyfully shares her knowledge, skill and gracefully mentors her team during these stressful patient experiences. Her outstanding ability to round on patients and families makes her the poster child for how to make it authentic and genuine. As she has been dubbed by our Studer Coaching Team, she is a "rock star." She mentors new and seasoned staff in how to make the round a meaningful round. Her ability to share this natural skill has allowed our team to understand and appreciate the value in adding this component into their daily care practices. This nurse truly deserves this recognition as a leader for improving patient experience, positive communication with patients and families, and her ability to compassionately share her commitment to authentic patient rounding.
Jefferleif "Jeff" Jabola, BSN, RN, RN-BC
Nurse Manager, Emergency Department, Upper Valley Medical Center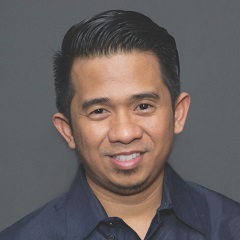 This nurse is a Team Leader on our unit and seriously EVERYONE loves to work with him; some even calling him simply, "the best" or "wonderful!" He advocates for his co-workers and is always there to help us out by either answering questions or jumping in to physically help with patient care tasks. He will listen to his co-workers' concerns, check in with each of us to make sure our nights are going well, and ensure that we aren't overwhelmed by our patient care responsibilities. He will willingly take more patients than intended to keep the team out of a critical number. I have also witnessed him interacting with both his own patients and other patients during leader rounding. He is so upbeat and positive that he immediately puts patients at ease. I have had patients ask for him by name and tell me, "That guy was so nice! I bet you love working with him!" I can honestly answer that I do! He is great at addressing patients by name and immediately getting on a trusting, comfortable level with them. I think he makes a great impression for Premier Health!
Amy Pokorski, BSN, RN
Patient Flow Manager, Bed Control And Patient Flow, Miami Valley Hospital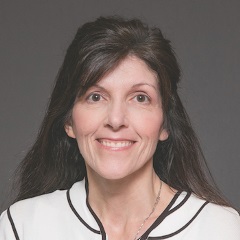 Our group works to ensure a patient and their family receive timely, professional, and exceptional care. We are a small department in which our job is to look at the whole picture and place the patient accordingly. The RN that I am nominating is one that believes in patients first. She is one to go the extra mile to ensure our patients will be placed in an appropriate bed to allow the patient to regain strength and health as quickly as possible. One example of this is when she was assigning a patient recently. The bed was occupied. She was on that day and went to the unit to offer help to open the bed. She called for the stat clean and helped with cleaning as well. She made sure that the patient's wife had a sleeper chair too. She then went downstairs to help with transporting the patient from the ETC to the ready room. She takes pride in her profession and it shows every day she works. She is a present-day Nightingale. Thank you for showing your dedication in every way to not only your group/unit, but to all those that you encounter.
Jamie Shingler, BSN, RN
Nurse Manager, Surgical Unit, Miami Valley Hospital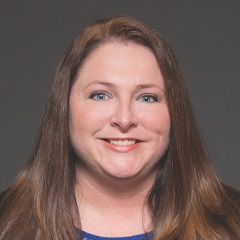 This nurse is one of the best at Miami Valley. She's an excellent example of what a nurse manager should be. She promotes hourly rounding logs, pre-flight check-lists, and medication side effect educational material to provide to patients. She encourages staff to bring forward ideas that will improve staff communication, retention, and patient satisfaction. She is respectful to everyone she meets, utilizing therapeutic communication to reach the best solution. She works very well with others and her follow-up is prompt. She leads by example, there is truly nothing she will not do for patients and her staff. I have seen her at one time or another clean rooms, empty trash, complete admissions, give meds, take patients to the bathroom, and always come to any emergency; anything needed she will do. She has even come in in the middle of the night and taken a team when staffing was low. She rounds daily on all patients, taking care of any concern in a sincere and compassionate manner all while demonstrating HEART and upholding core values. I am truly amazed at how she represents our unit, always with a smile and always professional. I and our staff feel she is very deserving for this award.
<<Back to Special Edition Premier Nursing News-May 2017
Source: Premier Health Nursing