Celebrating Premier Health System Designation at 2019 Magnet Conference
By: Annie Neff, BSN, RN and Annette Drake, MS, RN, CRRN, CBIS- Magnet program managers
Premier Health clinical nurses and nurse leaders attended the three-day 2019 Magnet Conference in Orlando, Fla. The team of 30 attended a variety of podium and poster sessions while networking with nurses from around the world. Conference attendees also had the opportunity to celebrate and be recognized for Premier Health's first system Magnet designation with 128 nationally and internationally hospitals or systems. Premier Health is featured beginning at 34:15 on the celebration video.
Upon return from the conference, attendees submitted recommendations on how to move Premier Health's culture of excellence forward. Two of the ideas attendees would like to pursue are:
Code lavender to assist nursing peers when they are overwhelmed and foster improved teamwork
Strategies for addressing food insecurity of patients/families across Premier Health
When asked what attending the conference meant, common themes included:
Conference validated excellent nursing practices already present throughout Premier Health
Inspires, empowers, and energizes us to share strategies that could be implemented throughout Premier Health to further improve patient outcomes, increase nurse satisfaction, and enhance patient experience
Listed below are the clinical nurses and nurse leaders who attended the Magnet conference:
Atrium
Tina Gregory, ACNO
Ingrid Waggoner, director of nursing
Melissa Dinsmore, clinical APRN Med-Surg
Tessa Robinson, clinical nurse in ICU, chair of TL Council, Magnet Site Visit Ambassador
Mallory Burdine, clinical nurse med-surg
Doreen Moore, clinical nurse educator in ER
Kelsey Leonard, lactation consultant, conference attendee winner from Shared Governance Survey participation
Renate Back, clinical nurse, cardiac catheterization and nurse research fellow
MVH/MVHN/MVHS
Christie Gray, CNO
Michelle Adkins, director of nursing
Lisa Trefz, clinical APRN women's services
Carla McKee, nurse manager MVH North
Kristen Scott, clinical nurse educator, MVH South
Derek Mayberry, clinical nurse team leader, SEA9
Sarah Anderson, clinical nurse team leader, PCU5 at MVH South
Shelly Rose, clinical nurse, OR at MVH North
UVMC
Trish Wackler, CNO
Denise Herkins, director of nursing
Stephanie Kaiser, nurse manager
Claire Wirrig, ANM, cardiac telemetry
Ashley Heitbrink, clinical nurse educator, chair of EPP council
Kandi Diamond, clinical nurse in surgical services
Kimberly Beckman, clinical nurse, ED
Melissa Beasley, clinical nurse team leader observation unit
System Support
Peggy Mark, system chief nursing officer
Angela Wale, system director, nursing practice and Magnet program director
Annette Drake, Magnet program manager
Annie Neff, Magnet program manager
Kelly Sodders, project analyst, 2018 Magnet program manager
Dr. Pat O'Malley, system nurse researcher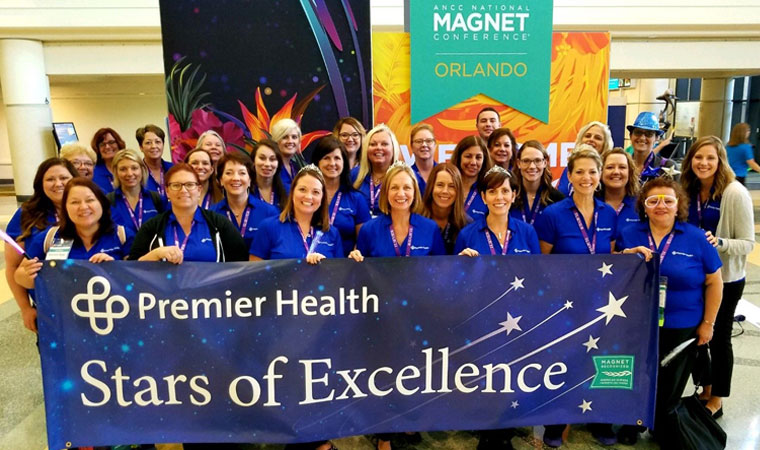 Back to the January 2020 issue of Premier Nursing News.