Talking To Your Kids About Recent Violence And Unrest In America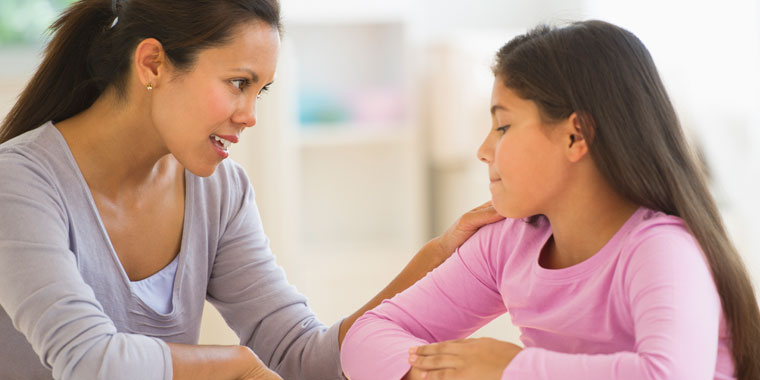 As Americans across the country watched rioters assault the U.S. Capitol on Jan. 6, adults weren't the only ones with heightened anxiety and concerns. Mark Casdorph, DO, psychiatrist for children and adolescents, says any child age 4 and up with access to a television or the internet most likely has seen scary and perplexing images of that day. He urges parents to step in and help their children come to terms with what they saw and how to interpret these events.
Dr. Casdorph says children may have different reactions depending on age and personality. Across every age, however, he suggests limiting television or internet time that exposes children to a constant array of disturbing images. He emphasizes that children of all ages are looking for reassurance and a chance to talk about their feelings.
"Making them feel safe to communicate their opinions in itself provides security," he says. "Initiate a conversation and let them talk without interjecting your own emotions. Validate their feelings."
Teachers have used the events of Jan. 6 as a teaching moment to engage students in conversation and voice their opinions about peaceful transition of power and other democratic principles, as well as how to find unity among a diverse population.
Match the Message To Maturity Level
"Young kids are more easily frightened," Dr. Casdorph says. "They depend on us as a source of safety. Ask them what they saw or what they think is going on. That can help set the stage for how you want to respond as a parent."
A simple explanation could be, "These people are fighting, but they are not a danger to us. We are safe here in our home." You may have to repeat this multiple times as a young child seeks reassurance and processes the information. Show extreme patience, he says.
With grade school and high school students, he says to ask "What have you heard?" "What are your friends saying?" "What have you seen online?"
To reassure children who are nervous or scared, he suggests letting them know that people are working to make things better and safer.
For teens who may push back, depending on what they've heard from peers, you could say, "People may have strong opinions, but what are some ways we can handle conflict or disagreement without violence?"
He notes that multiple news channels and limitless internet resources can undermine a common understanding of truth and facts.
Dr. Casdorph believes some valuable messages across all age groups are: "People may not always agree with each other, but violence is never an answer. Breaking the law is not appropriate, no matter how impassioned you feel."
Warning Signs Of Mental Distress
Watch for warning signs that may indicate a more concerning level of mental distress, Dr. Casdorph says, especially in children who tend to be extremely sensitive or anxious under normal circumstances.
"Small children may react by having trouble separating from parents or regressing to bedwetting. They may show increased irritability or anger," he says.
"Teens may withdraw and seem to ruminate on topics of concern. They may exhibit abrupt changes in behavior," he adds. "If they have trouble sleeping, are sleeping too much, have poor hygiene, have difficulty concentrating, or lose interest in things they formerly liked to do, it may be a sign of a behavioral health issue such as depression or anxiety."
If you have concerns about your child's ongoing distress, contact your child's primary care physician for recommendations or a referral.
Sources: Mark Casdorph, DO, Upper Valley Outpatient Behavioral Health; Dayton Daily News