COVID-19 Quarantine: Find the Silver Lining For You And Your Kids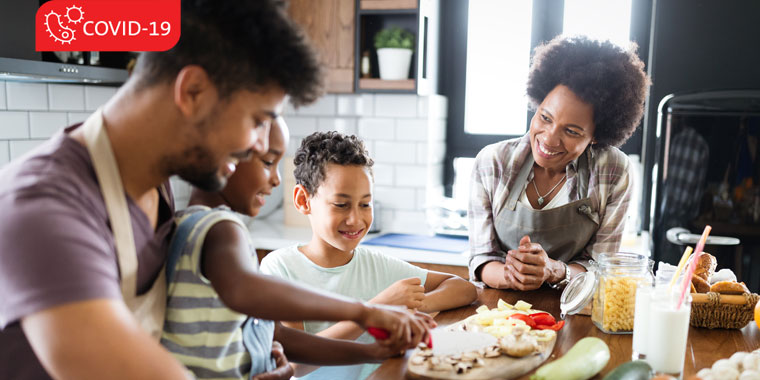 The need to quarantine due to a COVID-19 diagnosis can be stressful for families. Children may find a quarantine especially confusing if they are symptom free.
Parents can take steps to help children and teens understand why they must stay away from family and friends, says Mark Casdorph, DO, a child and teen psychiatrist. It's also important to pay attention to your child's mental state of mind and watch for any signs of decline, Dr. Casdorph says.
"You can address the situation through conversation and explanation," Dr. Casdorph says. "Explain that your family may have the virus, but you feel OK and will be OK."
Understanding Quarantine
While staying at home, be sure your children understand that you are taking these steps to keep everyone safe. Explain that you are quarantining because someone in your family was or may have been exposed to a person with the virus.
If a child or family member must isolate within the home, talk with your children about it.
"You want to be sure they understand that it is a precaution to keep everyone healthy and not that someone is being sent away," Dr. Casdorph says.
The Centers for Disease Control and Prevention and Dr. Casdorph recommend these tips during quarantine and isolation:
Use a separate bathroom, if possible.
Avoid contact with other members of the household and pets.
Don't share personal household items, like cups, towels, and utensils.
Monitor your symptoms and watch for a high fever or breathing problems.
Stay in a separate room from other household members, if possible.
Stay home except to get medical care.
Wear a mask when around other people, if you are able to.
For more information on when to quarantine, read the CDC's guidance.
Managing Mental Health
Despite your best efforts, your child or teen may feel anxious, depressed, isolated, or stressed out. Dr Casdorph says parents should keep an open dialogue so that children know there are ways to manage anxiety and other feelings.
"Parents can share their own fears and how they are tackling them," Dr. Casdorph says.
Watch for warning signs, which the CDC says can include:
Avoiding favorite activities or isolating themselves
Behavior regression, such as bedwetting, in younger children
Difficulties with attention and concentration
Excessive crying or irritation in younger children
Excessive worry or sadness
Irritability and "acting out" behaviors in teens
Looking sad
Making statements of hopelessness
Poor school performance or avoiding school
Unexplained headaches or body pain
Unhealthy eating or sleeping habits
Use of alcohol, tobacco, or other drugs in teens
"In younger kids and teens, if they start having a lot of anxiety or depression, they will let you know it," Dr. Casdorph says. "You will see something and know it."
Make the Most Of It
When you adopt a "we are all in this together and we will get through it together" attitude, suggests Dr. Casdorph, you can make quarantine fun.
Your children may have online school to focus on. You can also look for extra activities to do as a family, such as:
Building a quarantine routine
Connecting with family and friends virtually or by phone
Cooking meals together
Educational explorations through sites like National Geographic
Family movie nights
Hugging each other
Listening to your teen's concerns
Practicing mindfulness and positive thinking
"Doing things together lets your children know that you are moving on and not sitting around and waiting for something bad to happen," says Dr. Casdorph.
Source: Mark Casdorph, DO, Upper Valley Outpatient Behavioral Health; Centers for Disease Control and Prevention