COVID-19 Diagnosis: Help Your Child Manage the Stress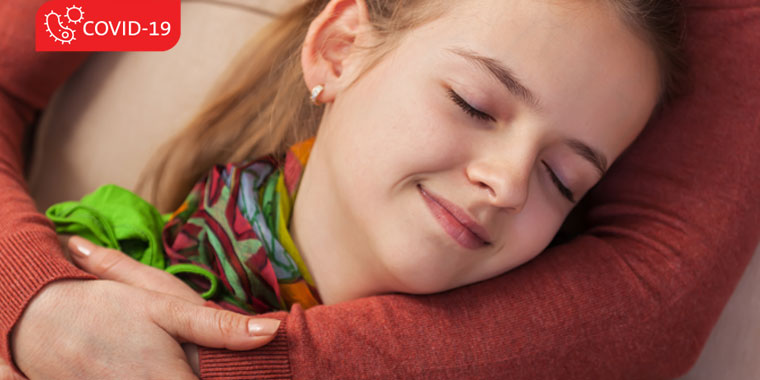 If someone in your immediate family gets a positive COVID diagnosis, feelings of worry, fear, and panic may quickly follow for you and your children. And that's OK, says Mark Casdorph, DO, a child and teen psychiatrist. It's how you handle and discuss the situation that makes a difference.
How you react to the news impacts how your children feel about and deal with this new reality, says the Centers for Disease Control and Prevention. Pandemic parenting is not easy. A way to provide support for your children is to deal with COVID-19 calmly and confidently.
Conversation Is Key
Dr. Casdorph recommends this approach for parents:
Gather information and facts.
Prepare yourself emotionally and mentally to talk about the COVID diagnosis.
Set aside time for an age-appropriate discussion with your family.
Open and honest discussions are the best ways to calm COVID fears, Dr. Casdorph says.
Ten months into the pandemic, kids and teens are feeling frustrated and sad. They miss school and friends and their regular activities. The holidays are different. Children worry if they will get sick or if someone they love will die.
"There is angst and a sense of being unsettled," Dr. Casdorph says. "Don't run from that fact with the older kids. Bring it out."
If your child asks you about a COVID diagnosis, ask them what they've heard. How your child replies can help you know how to answer.
"Their response could be different than what you expected or prepared for," Dr. Casdorph says.
For very young children:
Explain that a parent or sibling is sick and needs to stay in their room so no one else gets sick.
Let your child know they are being cared for.
Explain that no one is leaving them.
If a family member does need to go to the hospital, you can explain it by saying that doctors can be with them all the time there and keep it from getting worse.
Be truthful and minimalistic.
For older children and teens:
Acknowledge how crazy these times are.
Ask your child or teen what's craziest for them.
Ask your child or teen what their friends say about COVID.
Let children know that it's OK to talk about how they feel and what's going on.
"Conversation is THE way to address it," Dr. Casdorph says. "They are talking to their friends about it, and you want to know what they are thinking about. Talking together can strengthen your bond with your children."
Address Fears And Concerns
One worry children and teens have about a positive diagnosis is a fear of being left out. An unwarranted stigma related to a COVID diagnosis may also exist. Kids may feel anxious about missing school or telling friends about a positive test.
Dr. Casdorph says his patients give him mixed responses when he asks them what they think about a COVID diagnosis. Some say they are worried about it, others say they are not. A few patients with social anxiety don't mind home schooling. But for the most part, kids and teens want to be in school, he says.
People do hold varying opinions about the pandemic and mask wearing, and the situation has become political. The best approach to address questions from your kids about these topics is to have an open dialogue, Dr. Casdorph says.
"Children look to their parents to see how to interpret things," he says. "Tell the truth. Focus on the child's interpretation of what's going on. Validate their feelings and fears."
Parents may be surprised that for the most part, children and teens are taking the COVID life in stride, says Casdorph.
"Many of them may know a child from school who was gone for a short time related to COVID and then came back," Casdorph says. "So, there is a sense of acclimation. Children and teens have adjusted, and they see it's not usually fatal. It's just part of their life now, so they roll with it."
Find Ways To Connect
When your child expresses concern about COVID, remember to stay calm, reassure them, and listen, Dr. Casdorph says. If a family member does get a positive diagnosis, one of the best things to do is to maintain normal family routines.
"Family rituals are very important for children and teens," Dr. Casdorph says. "This shows them that things are OK."
You can also use a positive diagnosis as a good time to reinforce hygiene basics such as social distancing, washing hands often, and wearing a mask.
The CDC and Dr. Casdorph recommend these tips for supporting your child:
Answer questions about COVID-19 in a way your child understands.
Be a role model. Take breaks, get plenty of sleep, exercise, and eat well.
Connect safely and virtually with your friends and family members.
Let your child know it is OK to feel upset.
Limit family exposure to pandemic news coverage, including social media.
Maintain regular routines as much as possible.
Reassure your child that the family is safe.
Share how you deal with your own stress, so your child learns ways to cope.
Spend time with your child in meaningful ways: read or exercise together, play board games or cards, take walks outside.
Source: Mark Casdorph, DO, Upper Valley Outpatient Behavioral Health; Centers for Disease Control and Prevention