Lisa's Story: New Treatment Fixes Painful Toe Joint, Restores Walking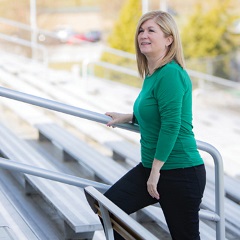 Lisa Nussman is a self-described walker. "For exercise, I don't run," she says. "I walk — a lot!" A two-mile path around her Englewood neighborhood is a near-daily routine. But that routine was interrupted three months ago when pain in her left foot forced her to stop. Now 55, she had been experiencing off-and-on pain for the last four years. "It would go away and then come back again," she says.

Her family care provider, Michael Barrow, MD, with Premier Health Family Care - North, took X-rays and identified arthritis in her big toe. Because the pain wasn't interrupting Lisa's routine, she lived with it. Once, when the pain became especially troublesome, a shot of cortisone provided temporary relief.

But then came that day, three weeks after the cortisone, when the pain brought Lisa to a standstill. "I can't walk," was her message to Dr. Barrow. "It's time to do something!" Dr. Barrow recommended Lisa meet with orthopedic surgeon Michael Barnett, Jr., MD, at Premier Orthopedics. She got an appointment quickly and was surprised to learn that, in addition to the arthritis, she had three bone spurs.

Dr. Barnett suggested a procedure to remove the bone spurs, along with an implant of a new synthetic cartilage-like material called Cartiva. Because the cartilage had worn away between the bones in her big toe, Lisa was a perfect candidate for Cartiva, Dr. Barnett explained. Cartiva is made from the same material as soft contact lenses. When inserted between the toe bones, it cushions the joint while maintaining range of motion. Dr. Barnett was the first surgeon in Ohio to implant Cartiva.

Lisa's procedure at Atrium Medical Center was early on a Friday. By noon she was headed back home to her couch. "Dr. Barnett told me that proper rest was crucial to recovery, so I spent most of the next two weeks on my couch," says Lisa. Eventually, heel walking advanced to regular walking, and 13 weeks after the procedure, Lisa is walking pain-free. Her range-of-motion is nearing 100 percent, and Lisa is happy to have returned to her favorite neighborhood walking path.

Lisa and her husband Phil, both enthusiastic sports fans, are back to attending local sporting events. "We can climb the bleachers again at Northmont High School and University of Dayton football and basketball games," she says enthusiastically. "I'll never take walking for granted again."