Ted's Story: Surviving Lung Cancer Thanks To Robotic Surgery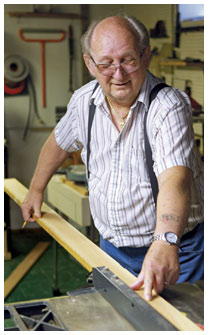 In early 2012, Ted West, a 71-year-old former smoker, was diagnosed with lung cancer. The year before, he had developed a persistent cough; and when it didn't go away, his family doctor sent him to James Murphy, MD, a pulmonologist. Tests showed Ted had a lesion on his right lung.

Lung lesions are common and often present no medical harm, but over time, follow-up imaging gave Dr. Murphy cause for concern. Biopsies initially indicated the spot was benign; but, when the lesion began to take on a suspicious appearance, Dr. Murphy decided it needed a closer look.

That's when Dr. Murphy referred his apprehensive patient to Jose Rodriguez, MD of Cardiothoracic Surgery Associates. As one of the area's first surgeons to perform robotic thoracic (chest) surgery, Dr. Rodriguez knew if Ted's spot turned out to be cancer, he could remove it with less pain and scarring than Ted feared.

"He told me he thought he could fix me, and I told him I was willing to put my life in his hands," Ted said.

Anxiety Turns To Relief

Ted had never heard of robotic surgery before he met with Dr. Rodriguez.

With the robot, tiny mechanical arms are inserted into the patient through five small incisions. The surgeon controls the movements of the robotic arms through controls at a console several feet away from the operating table. The robot translates the surgeon's hand, wrist and finger movements at the control console into corresponding micro-movements of the instrument tip. Similar movements also control a camera to see inside the patient's body.

Not all patients are candidates for robotic lung surgery. There are tumor size and location considerations. Usually, Stage I and II cancer patients benefit from robotic surgery, which is why Dr. Rodriguez presented it to Ted as a possible option.

Dr. Rodriguez's plan was to perform a biopsy and then immediately proceed with robotic surgery if cancer were revealed. Dr. Rodriguez used another method – video-assisted thoracic surgery, or VATS– to perform a biopsy of Ted's lung; and when cancer cells were identified, he immediately switched to the robot to remove the entire lower lobe of Ted's right lung.

The removal of the lobe, known as pulmonary lobectomy, is one of the most common surgical treatments for lung cancer. Traditional thoracotomy (cutting into the chest wall) and lobectomy require a large incision, often 10 inches. This surgery also commonly results in substantial blood loss and a lengthy and uncomfortable recovery. Ted's minimally invasive surgery took two hours, during which time Dr. Rodriguez removed Ted's entire lower lobe through a one-and-a-half inch incision.

Ted's Perspective

Ted was amazed at his condition when he woke up in recovery. Five days after undergoing surgery he was headed home. (Some patients can go home as early as three days after a robotic pulmonary lobectomy. In comparison, patients who undergo traditional lung surgery stay for an average of seven days.

"I never saw one drop of blood through the whole experience," Ted recalls. "I never had bleeding where the holes were. All I had were little scabs where the incisions were, and about six weeks later they were gone."

As Ted discovered, robotic surgery delivers significant benefits to patients including shorter hospital stays, less pain, reduced risk of infection, less blood loss, fewer transfusions, less scarring, faster recovery, and a quicker return to normal daily activities.

Surgeon's Perspective
The da Vinci® Surgical System allows physicians improved access to operative areas and enhanced visualization. It gives surgeons high-definition, three-dimensional vision and allows magnification of the surgical area by a factor of 10 times. And because the da Vinci is a robot, physicians are able to perform surgery with the same precision each and every time – something that is not possible with traditional surgery.

Dr. Rodriguez brought with him extensive experience in robotic lung surgery. He formerly used VATS to perform most of his lung surgeries. Now he mainly uses the da Vinci. He still uses VATS, as in Ted's case, to perform initial biopsies.
Back To Normal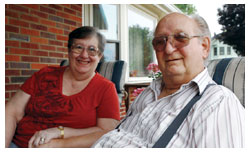 Ted has returned to normal life after his surgery. Because his tumor and the surrounding lobe were removed, he did not have to undergo chemotherapy or radiation. He realizes he's one of the fortunate ones whose lung cancer was detected early.
Early detection is important. More people die from lung cancer than from any other type of cancer, according to the Centers for Disease Control and Prevention. But only 30 percent of lung cancer is treatable with surgery.

Today, Ted is back to his monthly breakfast dates with his former Regional Transit Authority colleagues. It's a ritual he has been a part of since he retired from his 33-year-career as an RTA bus driver in 2001.

This summer he has enjoyed sitting on the front porch of his Dayton home with his wife, Sandy, watching the world go by. Come fall, he's looking forward to spending time in his basement woodworking shop.

He doesn't take his outcome for granted. "I feel pretty lucky I'm still here," he said. Miami Valley Hospital was the first to perform robotic surgery in the Dayton area.

Ted and Sandy, now in the second decade of their retirement, are looking forward to more years together.
Contact Us
When you need surgery, we're here with experience and options. Our surgical teams are committed to providing you with effective, patient-focused care. See a list of our convenient locations or find a general surgeon.