Enjoy Patient Stories
Real-life stories from our patients bring Premier Health's caring and capabilities to life. Learn more about some of the people who have benefited from our team's knowledge and compassion. We're proud to make a difference!
Pat and Paul Matheney
Sep 28, 2020, 16:52 PM
Pat and Paul's Story: In Sickness and In Health
Married couple beat cancer twice together, returning to regular life - work as a pre-op nurse and in building maintenance, time with their children/grandchildren, visiting Tennessee, and ziplining. "Cancer made our marriage stronger."
Patient Name :
Pat and Paul Matheney
Pat and Paul's Story: In Sickness and in Health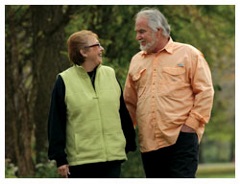 Pat and Paul Matheney—both cancer survivors—supported one another when they were diagnosed, more than 10 years apart. Today, they are enjoying life, spending time with their five grandchildren, and planning to grow old together.
When the Matheneys exchanged marriage vows in 1970, they probably didn't give a lot of thought to the phrase "in sickness and in health." After all, they were still teenagers—young and seemingly invincible. It would be 30 years before cancer put their vows to the test.
Pat and Paul finished high school and settled in Riverside. Pat was just 21 when their first son, Michael, was born. Three years later, C.J. came along. Pat eventually went to nursing school, graduated at the age of 40, and began working as a preoperative nurse.
Meanwhile, Paul's work in building maintenance kept him busy, and the boys were starting careers of their own. In 1996, the Matheneys bought property in Tennessee and began making plans for a cabin. Life was good.
Then, in June 2001, Pat began having unusual symptoms that included frequent urination and pain while urinating. When she noticed blood in her urine one morning, she called her doctor's office at Berry Women's Center at Miami Valley Hospital. Suspecting title=kidney stones;healthinfo=Kidney Stones, the doctor referred her for an title=ultrasound;healthinfo=Abdominal Ultrasound. Paul and the boys were on a fishing trip in Tennessee, so Pat's sister, Vicki, accompanied her to the test.
Trying Not to Panic
"I was looking at the display screen during the ultrasound, and I could see a mass in one of my kidneys. I walked out of the exam room and told Vicki, 'I have kidney cancer,'" says Pat, 59. "Nobody had to say it. I just knew. I didn't want to tell Paul on the phone, so I waited until two days later, when it was time to drive to Tennessee to pick him and the boys up. Friends came with me, and I was upset and nauseated the whole way down."
Pat shared the bad news with Paul and, after the initial shock wore off, he responded with characteristic calm. "We didn't know anything for sure, and even if it was cancer, I figured it was probably fixable," he explains. "I tried to help Pat just accept the situation for what it was and take it one step at a time."
More tests followed. Within two weeks the Matheneys received confirmation: renal cell carcinoma. Pat's doctor referred her to urologist David W. Key, MD, of Dayton Physician Network. Dr. Key met with Pat and Paul the next week to discuss her condition. He recommended surgery to remove her left kidney, and the Matheneys agreed. Only after the surgery would they know for certain whether the cancer had spread. If it hadn't, Pat's prognosis was good.
An Emotional Ride
"The next six weeks were like a roller coaster. I went back to work, but it was sort of surreal – like I was there but not there," Pat says. "I would cry myself to sleep worrying about leaving Paul by himself, and the boys without a mother."
Pat found that focusing on other things besides her cancer helped. At the time, Paul's mother was dealing with a recurrence of title=breast cancer;healthinfo=Breast Cancer, and Pat spent many hours keeping her company and helping her around the house. Many weekends, Pat, Paul, and the kids would drive down to their property in Tennessee to clear brush and start framing the cabin. Pat's friends, her stepmother, and three siblings helped her stay positive and not dwell on the "what if's".
Paul's steady support during this time was indispensable, Pat says. "He was always there for me, asking if I wanted to talk or just holding me while I cried."
Pat's surgery took place at Miami Valley Hospital. While complex and delicate, it was successful. Lab tests indicated that the cancer had not spread. "Paul was at work when I got the news from Dr. Key, and when I called to tell him, I was sobbing. I was so relieved," Pat says.
Pat considers herself extremely lucky that her cancer was detected early and required no additional treatment following surgery. She couldn't have known that 11 years later, she would be relying on Dr. Key's skill again – this time, for Paul.
'Why Us, Again?'
During a routine visit to his primary care physician in April 2012, Paul learned there might be a problem with his prostate. His doctor performed a physical exam and ordered blood tests, which showed that he had elevated title=prostate-specific antigen (PSA);healthinfo=Prostate-Specific Antigen (PSA) levels.
"My doctor told me I needed to see a urologist soon, so I made an appointment with Dr. Key right away," says Paul, 60. "After a few more tests, Dr. Key called me at work to say I had cancer in my title=prostate;healthinfo=Prostate Cancer, and that it was time to talk about a treatment plan."
Paul's cancer was a slow-growing variety. Dr. Key gave him time to explore all the options, which included surgery and title=radiation therapy;healthinfo=Radiation Therapy Treatment, among others. "I decided to have my prostate gland removed surgically, because that seemed like the only way to make sure the cancer didn't come back," Paul says. "Surgery was delayed because of some minor health issues on my end, so it didn't happen until June 18."
The six-week wait was difficult for Pat and Paul, although they dealt with it differently. "I was extremely scared," Pat says. "I thought, 'why us, again?' It wasn't fair."
Paul had his moments of anxiety, describing himself as a little jumpy, but he didn't want to dwell on it, or talk about it. "What really helped is that I knew I was in good hands with Dr. Key—I just wanted the surgery to be over with," he says. "Pat and I didn't share the news with a lot of people, but we did spend more time with each other and with our sons and their families."
As it turns out, there was no reason to worry. The surgery was successful, and Dr. Key told Paul that no further care would be necessary, aside from regularly scheduled title=PSA tests;healthinfo=PSA Test to ensure that the cancer was gone.
Today, Pat and Paul are as busy as ever. They love spending time with their five grandchildren, visiting the cabin in Tennessee, and antiquing. They've even taken up zip lining, a high-adventure activity that involves being harnessed to a cable and "flying" above the ground at a high rate of speed.
"We like to experience all that life has to offer," Pat says. "Cancer actually made our marriage stronger. I know Paul is there for me, and he knows I'm here for him. We can get through anything together."
Playing To Your Strengths
When it comes to coping with a cancer diagnosis, there is no formula for success. But there is one important rule of thumb: be yourself.
"It's important for cancer patients to tap into how they normally function and cope, and then use those strengths," says Sharon Guenther, MSW, LISW, social worker at Miami Valley Hospital. "For example, some people find that talking about their feelings is natural and helpful, while others don't. Some patients need to feel in control, and continue doing the grocery shopping and laundry, and others are happy for someone else to step in."
Studies show that patients who have a supportive circle of friends and family tend to do better with pain, mood, and overall outcomes. Guenther, who has survived two serious bouts with cancer in the last 25 years, encourages patients to reach out to family, friends, their church, and community-based cancer groups for help.
She adds that loved ones are often the first to notice signs that a patient is not coping well, such as:
Personality changes
Lack of appetite or extreme anxiety
Poor personal hygiene or an unusually messy home
Related service lines
Related subservices
Related physicians
Keeping You Safe During COVID-19
You will find new safety measures in place when you schedule appointments and come to our facilities — all with the goal of keeping you safe as we care for you.
Contact Us
Our cancer team is here for you. Our cancer specialists have access to nationally recognized cancer care protocols and best practices, since Premier Health is a certified member of MD Anderson Cancer Network®, a program of MD Anderson Cancer Center. Our patients benefit from advanced local care backed by the world-renowned expertise of the nation's leading cancer center.
Call the Premier Health cancer hotline at (844) 316-HOPE(844) 316-4673 (4673), Monday through Friday, 8 a.m. to 5 p.m., to connect with a Premier Health cancer navigator.