Dick's Story: 'I Plan To Keep Going As Long And As Far As I Can'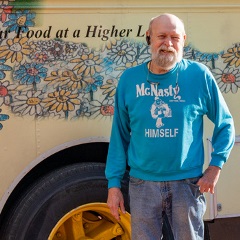 As the owner of the popular McNasty's Food Truck, 76-year-old Dick Bell drives 200 miles or more every week and works a long day, most of it on his feet.
It would be a rigorous schedule for anyone, at any age, but Bell carries an added burden: He is receiving chemotherapy treatments for stage 1 pancreatic cancer, which was diagnosed in June.
"It's an exciting business, and a hard business," Bell says of his long career in the Dayton restaurant scene. "I have made hundreds of friends. I can't tell you how many people have come up to the food truck to tell me I'm in their prayers."
On June 16, Bell woke up at 6 a.m., ready to make his rounds. "Here's the schedule for today," he announced, mentioning almost as an aside that he had noticed a yellowish cast to his complexion and blood in his urine that morning.
"We're taking you to emergency," his son declared.
Bell's father and brother had died from pancreatic cancer, but he attributed his father's death to exposure to pesticides as a farmer and his brother's death to exposure to Agent Orange during the Vietnam War.
"My father was an old farm boy, and by the time he told anybody he was sick, he only had six weeks to live," Bell recalls.
His own swift action may have meant the difference between life and death. "I was diagnosed at stage 1B, which is about the best you can get with pancreatic cancer," he says.
Early detection made Bell eligible for surgery, the most effective treatment for pancreatic cancer. "Once the cancer has metastasized, pancreatic cancer is not curable, and surgery is not an option," says Bell's surgeon, James Ouellette, DO, FACS, chief of surgical oncology at Premier Surgical Oncology and a certified physician with MD Anderson Cancer Network®, a program of MD Anderson Cancer Center, at Premier Health.
Without surgery, pancreatic cancer patients face a 5-percent long-term survival rate. Those odds increase to a 25- to 30-percent chance of five-year survival if surgery is combined with chemotherapy, Dr. Ouellette says.
There are no known causes for pancreatic cancer, although smoking is seen in the majority of patients, Dr. Ouellette says. It is often seen in more advanced stages because the symptoms are vague and non-specific – nausea, weight loss, back pain – and there is no reliable screening test other than genetic testing for those with a family history.
Despite the discouraging survival statistics, there is reason for hope. "The chemotherapy regimens have been advancing in the last five to 10 years, and there is some improvement in survival for patients who undergo surgery," Dr. Ouellette says. "I would like people to know we continue to be dedicated to finding the best treatment for each person. My preference is to give people the benefit of the doubt, to get them through that necessary treatment, hoping they will come out with long-term survival."
In Bell's case, Dr. Ouellette performed what is known as robotic Whipple surgery, removing the head of the pancreas, a portion of the intestine, and bile duct. The robotic device enabled him to perform the operation by way of small holes rather than a large incision. Robotic surgery is less invasive, resulting in smaller incisions, less scar tissue, and often a less painful recovery. Bell's surgery was so successful that he was discharged from the hospital after only six days, and he suffered no complications. He returned to work – helping his wife Cathy with the food truck — only a few weeks after surgery.
After a consultation with a medical oncologist, Bell chose a less aggressive chemotherapy regimen with fewer side effects. "I wanted to get back to work," Bell says. "I guess I have my dad's old farm boy in me. I have to be out and about seeing the people I know. It keeps me going."
He credits Dr. Ouellette for getting him back on his feet. "What a wonderful doctor he is," Bell says. "We have friends in Minnesota who are surgeons, and they recommended him to me."
Premier Health is Southwest Ohio's only certified member of MD Anderson Cancer Network, which involves a rigorous review process. Certified cancer specialists, such as Dr. Ouellette, discuss challenging cases with experts at MD Anderson, the top-ranked cancer center in the United States.
"We review a case and use the combined experience of our physicians and the experts at MD Anderson, and it helps to provide better care for the patient," Dr. Ouellette explains.
Bell is optimistic about his future, and he and Cathy plan to keep serving McNasty's famous burgers for some years to come. "I plan to keep going as long and as far as I can," he vows.
Contact Us
Our cancer team is here for you. Our cancer specialists have access to nationally recognized cancer care protocols and best practices, since Premier Health is a certified member of MD Anderson Cancer Network®, a program of MD Anderson Cancer Center. Our patients benefit from advanced local care backed by the world-renowned expertise of the nation's leading cancer center.
Call the Premier Health cancer hotline at (844) 316-HOPE(844) 316-4673 (4673), Monday through Friday, 8 a.m. to 5 p.m., to connect with a Premier Health cancer navigator.