Enjoy Patient Stories
Real-life stories from our patients bring Premier Health's caring and capabilities to life. Learn more about some of the people who have benefited from our team's knowledge and compassion. We're proud to make a difference!
Amy Hamilton
Oct 5, 2020, 15:12 PM
Amy's Story: Advanced Cancer Care Close to Home
Patient Name :
Amy Hamilton
Amy's Story: Advanced Cancer Care Close to Home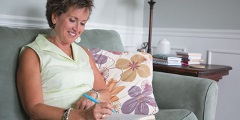 Lying in an MRI machine, Amy Hamilton had a thought.
"I had a big revelation: Nobody knows what kind of car I came here in. Nobody knows what kind of house I came from this morning. Nobody knows what kind of jewelry I wear, or anything," she says.
"When it comes down to it, we're all the same – we work and stress so much for material things. We're always striving to have more and more and more. Being practically naked in an MRI machine puts things into perspective."
At 49 years old, Amy felt a large lump in her breast in early summer 2017. She scheduled a title=mammogram;healthinfo=Mammography at the Women's Center at Atrium Medical Center, thinking nothing of it. But the mammogram immediately led to an title=ultrasound;healthinfo=Breast Ultrasound, and a title=biopsy;healthinfo=Breast Biopsy confirmed that she had title=breast cancer;healthinfo=Breast Cancer: Introduction.
A Powerful Team
Amy chose to go through cancer treatment at Atrium under the care of Nkeiruka Okoye, MD, a medical oncologist with the Dayton Physicians Network. She is a certified physician with MD Anderson Cancer Network®.
Thanks to Premier Health's affiliation with MD Anderson Cancer Network, Dr. Okoye discussed Amy's case with some of the nation's leading experts in cancer treatment. MD Anderson is the top-ranked cancer center in the country, and one of the original three comprehensive cancer centers designated by the National Cancer Act.
"It's really impressive to know that you can review a case with a colleague at MD Anderson Cancer Center, review available research data objectively, and get recommendations from a renowned colleague," Dr. Okoye says.
Many people asked Amy why she didn't seek treatment in a bigger city. She says it was important to her to have a care team close to home so she could be with her family.
"I had confidence, and that was what I prayed for the whole time – I need wisdom and peace in whatever decision we make – and I just had that with them."
Navigating the Diagnosis
From the moment of her diagnosis, Amy had oncology nurse navigator Phyllis Rudokas, RN, to lean on.
"You know how you meet those people that when you hug, you feel like you just fall into them and every piece of them surrounds you? She gave me that feeling," Amy says.
Rudokas explains that she helps patients diagnosed with cancer "find their direction."
"We have to get them through this journey and take as much stress out of it that we possibly can," she says.
Rudokas helps patients navigate through the complicated journey of treatment and survivorship. Whether they have questions or need help breaking down barriers or making appointments, she is there for them. She can connect patients with cancer support services, assist with insurance difficulties, and so much more.
"I always tell patients, 'I'm your go-to person,'" says Rudokas. "I'll never know all the answers, and I may not be able to answer everything right away, but we'll figure it out together."
Keeping the Faith
Amy remained strong in her faith throughout her journey with cancer. She wrote positive messages on her chemo bags, dove into Bible scriptures, and journaled with her dog, Elvis, by her side.
"When you are faced with something that you have absolutely no control over – none – it really makes you learn to put your faith in God," she says.
"I'm thankful now that it happened, because it has really changed my perspective to not sweat the small stuff – the stuff we get so stressed out about that really doesn't matter; to let go of things we have no control over and enjoy each day."
Related service lines
Related services
Contact Us
Our cancer team is here for you. Our cancer specialists have access to nationally recognized cancer care protocols and best practices, since Premier Health is a certified member of MD Anderson Cancer Network®, a program of MD Anderson Cancer Center. Our patients benefit from advanced local care backed by the world-renowned expertise of the nation's leading cancer center.
Call the Premier Health cancer hotline at (844) 316-HOPE(844) 316-4673 (4673), Monday through Friday, 8 a.m. to 5 p.m., to connect with a Premier Health cancer navigator.