Adjustable Gastric Band
The adjustable gastric band is an effective tool for weight loss that doesn't involve as many side effects as other weight loss procedures. There are two types of adjustable gastric band procedures.
Adjustable Gastric LAP-BAND® System
The LAP-BAND® System (laparoscopic band) is an adjustable, belt-like band placed around the upper part of the stomach. With the LAP-BAND, food takes longer to pass through your stomach, so you feel full sooner. And feel full longer.
This helps you lose weight because:
Less food is digested at one time.
Your brain has more time to tell your body to stop eating.
Although you control how much food you eat, the LAP-BAND slowly helps your body adjust to a new way of eating. It expands or contracts around the upper stomach to regulate the flow of food.
LAP-BAND may be for you if your BMI is at least or equal to 30 or greater with another weight-related health problem. However, at this time, most insurance companies do not recognize the BMI of 30 to 34 as a qualifying requirement for obesity surgery.
How It Works
The LAP-BAND is connected to a port placed just under the skin. Your surgeon can tighten or loosen the band by adding or removing saline through the port. This saline is the "key" that adjusts the size of the band.
If the band is too loose, and you don't lose weight, your surgeon can add saline to tighten it.
If the band is too tight, removing saline will loosen it and allow more food through.
This laparoscopic surgery usually takes 45 minutes to one hour and 45 minutes to perform.
Adjustable Gastric REALIZE® Band

The REALIZE Adjustable Gastric Band (the Band) is a surgically placed band that helps treat morbid obesity (being 100 pounds or more over ideal body weight). It's only used for people who have:
A BMI of at least 40
A BMI of 35 and a co-existing health problem
Tried supervised diets, exercise, behavior modification, and other weight loss programs without success
How It Works
The Band is used to create a small opening (stoma) and a small stomach pouch. This controls hunger and helps people feel full with less food.
Advantages of Both Procedures
They're reversible.
They're minimally invasive.
Little anesthesia is needed.
They don't cause much trauma to the body.
Recovery is quick. Some of our patients can be discharged the day of surgery. Other patients stay a little longer, usually under 24 hours.
After Surgery
For both procedures, most patients recover quickly, and can drive and work in just three to seven days. Follow-up visits for band adjustments (saline fills) are done in the office every couple months.
Losing excess weight with the help of bariatric surgery can have significant benefits for your health. The results are well documented and sometimes quite dramatic. Here are some likely improvements as you transition from obesity to a healthy weight:
Added potential benefits of weight loss surgery include saving on doctor visits, prescriptions and overall medical costs. Typically, being at a more ideal weight means you'll have fewer illnesses related to obesity, such as having less sick days at work, issues fitting into a chair at the theater or paying extra for more room on a plane flight. After weight loss surgery, people tend to spend less on food or eating out, as well.
In total, there are many benefits to achieving a healthier, more active life through weight loss surgery.
Deciding to have weight loss (bariatric) surgery can change your life in a positive and healthy way. The decision of where to have your surgery is critically important and may affect your weight loss success and overall weight loss experience.
Our bariatric surgeons, Adam Golas, MD and Alice Wang, MD, perform all weight loss surgeries at Miami Valley Hospital, designated a Comprehensive Bariatric Center by the Metabolic and Bariatric Surgery Accreditation & Quality Improvement Program, a joint program by the American College of Surgeons and the American Society of Metabolic and Bariatric Surgery.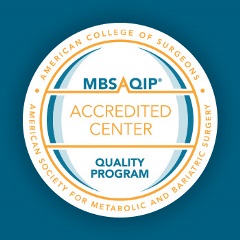 This designation acknowledges the superior surgical and medical care we provide for our patients. We put your safety first, and our complication rates are below the national average. We have also been chosen as a Bariatric Center of Excellence for most major insurance companies – including UnitedHealthcare and Anthem Blue Cross Blue Shield - in the Dayton and Greater Cincinnati region because of our ongoing commitment to excellence.
If you are interested in having weight loss surgery, here is the path you can expect to follow:
Register for and attend a free informational seminar.
Meet with one of our bariatric surgeons for an initial consultation. At this visit, you will also meet with a registered dietitian.
Meet with a registered dietitian to complete a nutritional evaluation and develop pre-surgery goals.
Obtain a psychological evaluation to ensure you are ready for the commitments of changing your life with bariatric surgery. We'll provide a list of psychologists so you have a choice of whom to contact.
Undergo any required diagnostic tests, such as endoscopy or blood work.
Obtain any medical clearances as requested from your primary care provider or other specialists you see, e.g. cardiologist, lung specialist, endocrinologist or kidney specialist
Attend at least one support group meeting before you schedule your surgery.
Attend preoperative education and nutrition classes. Presenters discuss what you can expect before, during and after surgery, including dietary expectations.
Prepare for your surgery by going on a high-protein diet two weeks before your procedure. This diet shrinks the size of your liver and allows us to perform the surgery more safely and easily.
Your pathway to surgery can take three or more months, depending on certain requirements from your insurance plan. See below for more information on paying for weight loss surgery.

Knowing what to expect during your weight loss (bariatric) surgery journey can make your experience much more comfortable.
Before Weight Loss Surgery
Once you and your physician have determined which weight loss procedure is best for you, you'll learn how to prepare for surgery. Premier Weight Loss Solutions physicians and staff will provide education and answer your questions so you can feel at ease about everything that will happen. You'll meet with a physician and dietitian to discuss what lifestyle and dietary changes you'll need to make before surgery.
Steps to take before surgery typically include:
Drink plenty of fluids
Eat adequate protein
Omit high-calorie foods and junk food
Take vitamin and mineral supplements
Eliminate tobacco products
Begin a physical activity program
You may also need to have certain lab tests and exams performed to ensure that you are able to safely undergo surgery.
During Weight Loss Surgery
The specific details of weight loss surgery vary depending on your individual situation. This includes the type of procedure being performed, and the practices of your hospital and doctor. However, there are some standard practices that apply to all procedures:
All weight loss surgeries with Premier Weight Loss Solutions are performed at Miami Valley Hospital. You will receive general anesthesia and be asleep throughout the procedure.
Weight loss surgery usually takes several hours.
After surgery, a medical team of nurses and doctors will monitor you for any complications.
You'll remain in the hospital for one to two days to recover.
After Weight Loss Surgery
Bariatric surgery is not a quick fix to achieve your goal weight. It's a tool. It requires many lifestyle changes to be successful. The physical changes your surgeon will make to your digestive system will significantly aid your weight loss process.
Nutrition
You will begin with an all-liquid diet, progress to ground-up or soft foods, and finally move on to regular foods within about 12 weeks.
The decreased amount of food you will be able to eat will help you eat less, but the type and nutritional quality of your diet also needs to change. Since the amount of food you can eat each day is a fraction of what it was before surgery, everything you eat must have high nutritional value. Your dietitians will provide you with detailed instructions about what your diet should be at every stage after your surgery.
Follow-up Care
In the first several months following weight loss surgery, you will see your doctor frequently to monitor your health. Follow-up care may include laboratory testing, blood work and various exams.
It can be difficult to be successful without a social support system. Maintaining a relationship with your weight loss team can be invaluable following your surgery. They will monitor your progress, encourage you and offer advice.
Ongoing Support
We recommend you attend support groups routinely to develop tools to ensure lifelong success with weight loss. Support groups offer compassion and empathy from other people going through similar experiences.
Positive Results
Many of our patients share that weight loss surgery has improved their self-esteem, their health, and the quality of their lives.

Many insurance companies fully or partially pay for weight loss (bariatric) surgery, since it is often considered a medical necessity. At Premier Weight Loss Solutions, we also offer self-pay options. If you would like to learn more about paying for bariatric surgery yourself, please contact us at (937) 208-5300(937) 208-5300.
If you want your insurance company to cover the cost of surgery, you will need pre-authorization. We recommend you contact your insurance company to learn the details of your particular plan and ask if you have coverage for the surgical treatment of obesity. In addition to asking about coverage, it's important to ask about whether there are any exclusions to weight loss surgery in your plan.
Premier Weight Loss Solutions accepts almost all major health insurances. We have the distinction of being a Comprehensive Bariatric Center with the American Society for Metabolic and Bariatric Surgery. Our insurance specialist will help you navigate the insurance approval process. We have helped many patients obtain approval who may otherwise have been unable to find coverage.
Find a list of the major insurance plans accepted by most Premier Physician Network offices online. Premier Weight Loss Solutions accepts most of these insurance plans.
Premier Physician Network's customer service team is happy to answer any questions about billing and insurance you may have. Call us at (937) 991-3100(937) 991-3100 or find detailed billing and insurance information.
We look forward to partnering with you on your journey to a healthier life!
Please download our registration form and patient history form, fill them out, and bring to your first visit. This helps save time during your appointment, so your provider can focus on spending time with you.
Contact Us
Helping you achieve your weight loss goals is our mission. Call our office at (937) 208-5300(937) 208-5300 to learn more about our services, including medically managed weight loss and surgery. If you're considering weight loss surgery, take the first step and sign up for a free information seminar.