David's Story
Read David Haning's story of weight loss and recovery. Listen to Dave in his own words.
Click play to watch the video or read video transcript.
At his heaviest Dave Haning couldn't walk his dog, had trouble showering, used a scooter at the grocery and took a plethora of medications. As a member of a band at his church, Dave had to sit to play his guitar. At 408 pounds, Dave had no quality of life.
A severe asthmatic, Dave was told by his pulmonologist to either lose weight or "die by the time he was 45."
Today, at age 45, Dave isn't just alive; he's living a better quality of life than he's experienced in years. Feb. 9, 2009 Dave had bariatric surgery at Miami Valley Hospital. He opted for the duodenal switch surgery because "I needed to get the weight off in a hurry. Time was not on my side."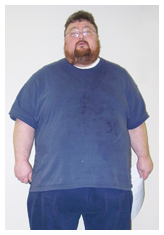 Since birth Dave has struggled with severe asthma. His serious breathing condition was significantly worsened by the extra weight he was carrying. "I have always been big. I just ate all the time. Obesity also runs in my family." Dave tried several weight programs which were temporarily successful.
In addition to his asthma, Dave suffered from sleep apnea and high blood pressure. He was living on steroids to control the asthma which gave him steroid-induced diabetes. At 330 pounds, Dave's problems worsened and the pounds continued to pile on. "I knew deep down what the core problem was . . . my weight. I knew I had to do something." He had researched bariatric surgery but family and friends talked him out of it. By the time he was 40; he was weighing 414 pounds and couldn't walk from his kitchen to his living room without having to stop for air. Even a shower was difficult, he had to stop and catch his breath.
"I was practically living at the hospital. I didn't want to live like that anymore," he said. He and his wife prayed for help and guidance. He made an appointment with Dr. John Maguire and scheduled his surgery. "I needed to get the weight off. My life was at risk. Sure surgery has risks but for me, living was risky."
Calling Dr. Maguire a 'top notch' doctor, Dave said surgery went well and the weight started 'melting off.' Two weeks after surgery he had lost 30 pounds. Today, Dave weights 175 pounds and maintains a regular diet. "I limit my sweets but other than that, I eat a regular diet but not nearly the quantities I used to eat."
These days Dave walks his dog around the block with no effort and walks with ease at the grocery. His blood pressure is in the low to normal range and his cholesterol is below normal. He no longer takes steroids and hasn't used his asthma inhaler in months. "My pulmonologist is tickled beyond belief. People, who know me, don't recognize me anymore. I now eat to live but I don't live to eat. God gave me a second chance."