Certified Nurse Midwives Offer Holistic Care for Women beyond Childbirth
Midwifery often works hand-in-hand with a practice's physician to optimize care
MASON, Ohio (March 16, 2017) – Stacy Hudepohl hopes to expand the perception that certified nurse midwives simply exist to help women through natural childbirth.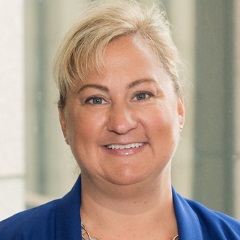 "A midwife is very similar to a nurse practitioner in that we care for women throughout their entire lifespan," said Ms. Hudepohl, a certified nurse midwife, who practices with the Center for Women's Health & Wellness in Mason. "We care for young women as they transition into middle adulthood and even menopause. And, of course, we care for women during pregnancy."
A certified nurse midwife in the state of Ohio is someone who has been a registered nurse, who has obtained their Master's degree in nursing, and has gone on to obtain their certification through the American College of Nurse Midwives (ACNM). Most nurse midwives have either worked in the labor and delivery setting or in some type of hospital setting before they've gone on to be a nurse midwife, said Ms. Hudepohl.
Much like other advanced practice providers – such as physician assistants and nurse practitioners – nurse midwives work with low-risk patients in a collaborative environment with a physician.
"Physicians are our partners," Ms. Hudepohl said. "We value them greatly and we work together as a team to provide the best care for women, and their baby when the care involves a birth."
Ms. Hudepohl said midwives are known for offering care that is centered on the whole woman – her family and her needs. The reasons a woman chooses a midwife for prenatal care extend beyond those benefits. A midwife often takes on the role of an advocate for the woman's wishes during labor and delivery.
"Often times, women will come to us wanting a natural birth and we are able to come alongside her and make sure that everything is in place to make that happen," she said. "Nurse midwives cannot assist in home deliveries, but we are fortunate enough in our area to have home-like settings in hospitals, such as the birth center at Atrium Medical Center, that provide the environment women want. The midwives are there for the woman taking care of her family, providing massages, birthing balls, and even coordinating epidurals or pain medications if needed."
Nurse midwives cannot administer epidurals, but they work closely with hospital staff to provide it. Likewise, if complications arise during labor and delivery, midwives are in partnership with physicians who take over if a cesarean section is needed.
Ms. Hudepohl, like many other nurse midwives, like to think that their personalized care for a woman during her prenatal months can aid with healthy outcomes. According to the ACNM, studies have shown that midwifery care produces higher rates of breastfeeding, lower rates of cesarean births, lower rates of induced labor, lower use of regional anesthesia, and a significant reduction in the incidence of third and fourth degree perineal tears.
Women wondering if a midwife is right for her may want to consider the following factors set out by the U.S. Department of Health and Human Services: How frequently you will visit the provider during office checkups and during the delivery; how they handle phone consultations and after-hour calls, their personality and bedside manner; and whether the provider delivers in the facility in which you wish to give birth.
The answer to these questions should then be compared with a woman's personal desires to determine if a nurse midwife would be a good option.
"Every woman's desires for her health and the birth of her baby are different," Ms. Hudepohl. "Nurse midwives are an option women can choose with the confidence that her overall care includes the collaboration of a physician."