Our 2016 Gala Honorees
Atrium Medical Center Foundation celebrates the contributions of our 2016 heroes:
Community Heroes
Our founding families, headed by:
Physician Heroes
Pioneers in building a healthier community:
2016 Contemporary Physician Hero
They join our previous honorees:
2013
Jerry D. Hammond, MD
G. Robert and Patricia Miller Gage
2010
Walter H. Roehll, Jr., MD
Arthur and Ann Bidwell Family
2007
E. Ronald Oches, MD
Wilbur and Mary Jean Cohen
2016 Community Heroes
George M. Verity Family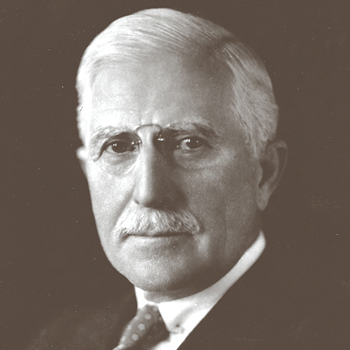 "Men of Middletown, what do you say? What will you do?" These words, spoken in 1909 by Armco founder George M. Verity, challenged the Middletown Businessmen's Club to step into the future. Nine years earlier, Verity had opened the American Rolling Mill Company's (Armco) first plant in Middletown. His approach to steel-making — combining steel production and sheet rolling in the same plant — was revolutionary at the time and fueled Armco's growing success. Now it was time to expand, and Verity gently told city leaders he would build another plant in Middletown and bring 1,000 new jobs to the city, but certain quality-of-life improvements were required so that both Armco and the city could fulfill their shared potential. Thus began the ambitious initiative known as "Greater Middletown."
Verity called for improvements in education, housing and recreation programs, as well as construction of a library and a YMCA. Also on the list: the city's own public hospital where Middletonians could receive world-class medical care without having to travel to Cincinnati, Dayton or Hamilton. Over time, Middletown achieved all of these goals.
In 1910, a special committee of city leaders selected a site for a hospital and planned a fundraising campaign. Prominent businessmen such as paper executives George Harvey, Colin Gardner Sr. and Colin Gardner Jr. supported the effort. The non-profit Middletown Hospital Association was incorporated in 1913, and the 28-bed hospital opened in 1917.
Other members of the Verity family also took up the torch in support of the hospital over the years. In 1914, George Verity's wife, Jean, and daughter Sara founded the Girls Welfare Association (aka Daddy Verity's Girls), which became today's Atrium Auxiliary Middletown. George's brother-in-law, Charles Hook, led the campaign to support the hospital's 1936 expansion. George's grandson, C. William (Bill) Verity, took over the helm at Armco in 1965 and continued the company's support of the hospital. The most recent Verity to serve on the hospital board was J.P. Powers, husband of Happy Verity, C. William's daughter.
Colin Gardner Sr. Family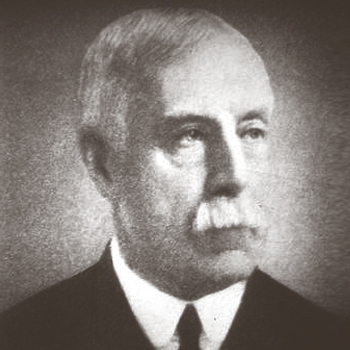 A contemporary of George M. Verity, Colin Gardner Sr. launched his paper mill in 1900. In 1904, Gardner more than doubled the capacity of that mill and four years later opened the Gardner-Harvey Company in partnership with George Harvey. In 1916 the partners opened the Gardner Paper Board Company. The elder Gardner built a palatial home near one of his mills in Middletown and later added three more homes for his grown sons. The compound became known as Gardner Park.
As one of the most prominent members of Middletown's industrial elite, Gardner Sr. was a strong believer in the "Greater Middletown" development initiative and was a staunch supporter of the city's new hospital. When Gardner Sr. died in 1919 at age 80, one of his eulogists remembered him as "having built himself into the character and institutional life of [his] community."
Gardner Sr.'s sons — Edward, Colin Jr. and Robert — worked with him in his paper business, as did partner George Harvey. Colin Jr. joined his father in 1909 and eventually became vice-president of all three concerns. In 1916, he became a member of the first board of trustees of the Middletown Hospital Association, becoming treasurer in 1918 and subsequently chairing the hospital board. Like his father, Colin Jr. was instrumental in raising funds — this time, for the hospital's expansion. He invited his future in-law Robert Millan to serve with him on the board. Millan was the youngest and longest-serving board member.
In 2010, Atrium Medical Center Foundation received a nearly $2.4 million gift — its largest ever — from a trust established by Colin Jr.'s brother Robert Gardner, who died in 1967. Robert had risen from a laborer and clerk in the Gardner paper conglomerate to treasurer. Hospital and foundation leaders called the gift "transformational." Members of the family remain active with the hospital to this day.
George Harvey Family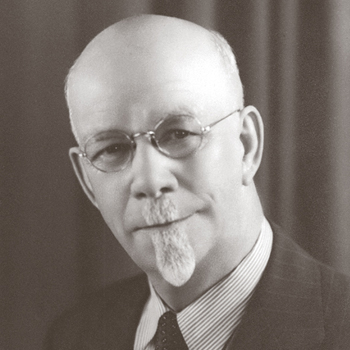 George Harvey came from a British family with a long history in papermaking. He arrived in Middletown in 1895 to work for the Tytus Paper Company, developing specialty papers. Later, he became partners with Colin Gardner Sr. and together, they founded the Gardner-Harvey Paper Company, where Colin guided the enterprise as George taught workers new methods of papermaking. This mill was just one brick in what would become nothing short of a business empire. Harvey rose to hold executive positions in all three of Colin Sr.'s paper enterprises.
A member of the Middletown Hospital Association, Harvey donated land to build the new hospital. He knew firsthand about the need. After a serious hunting accident, Harvey was rushed to Armco's on-site hospital. A surgeon from Cincinnati worked on the injury but did not offer much hope for his survival. Dr. David Gerber sat by Harvey's bedside day and night until he began to recover. It's no surprise that Dr. Gerber also became a strong advocate for building Middletown Hospital.
George Harvey and his wife, Elizabeth, had one son, Arthur, a chemist who also joined the paper business as an associate of Colin Gardner Jr. Arthur established a foundation in the mid-1960s in memory of his daughter, Marabelle, who had succumbed to breast cancer early in life. Today, Marabelle's daughter, Sarah Kaup, raised by her grandparents, is a proud member of the Foundation board of directors and administers the Arthur Harvey Foundation, which has given generously to hospital campaigns. Atrium Medical Center's lobby fountain is in memory of Arthur Harvey.
2016 Physician Heroes
Mabel E. Gardner, MD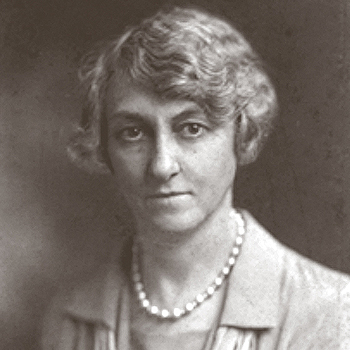 Dr. Mabel Edith Gardner, born in Camden, Ohio, in 1883, is remembered as a pioneering physician who advanced the place of women in medicine, furthered the practice of women's health, and championed excellence in health care in Middletown.
Dr. Gardner earned the right to be called "doctor" before she earned the right to vote. In 1914, she was a member of the first graduating class to include women at Ohio Miami Medical College, and when she started her practice in Middletown in 1915, she was the city's first woman doctor.
In her 50-plus years of practice, Dr. Gardner not only delivered more than 10,000 Middletown babies, but also played a significant role in establishing and improving Middletown Hospital. She was the driving force behind the 1956 expansion of the hospital's obstetrics department. Dr. Gardner served as both chief of obstetrics and president of the hospital's medical staff, and also taught for many years at the Middletown Hospital School of Nursing. Among other accomplishments, she was a founding member of the Butler County Unit of the American Cancer Society, a member of the Middletown Board of Health for 35 years and on the city's Civic Association Board of Governors for 15 years.
In addition to her local advocacy on behalf of women's health, Dr. Gardner also made a lasting impact nationally. She was a charter member of the American Medical Women's Association. In 1954, she garnered the group's prestigious Elizabeth Blackwell Medal. Dr. Gardner was also the first woman in Ohio to become a fellow of the American College of Surgeons and was a founding fellow of the American College of Obstetricians and Gynecologists.
David F. Gerber, MD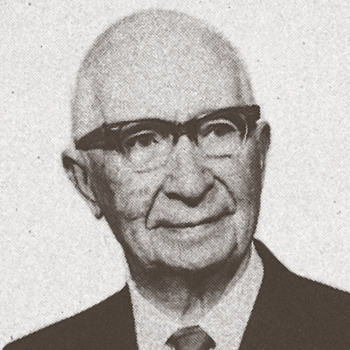 After graduating from college, David F. Gerber became a teacher for several years before entering Miami Medical College (now the University of Cincinnati College of Medicine). In 1908, he opened a practice in Middletown and made house calls on his bicycle. Dr. Gerber practiced at the Armco infirmary because the hospital had not yet been built. A massive train accident in West Middletown, however, made it clear to him and others that the community desperately needed its own hospital. Many people were killed and hurt in the collision, and all the area's doctors responded to the accident. But without a hospital, saving and treating patients was an uphill battle.
No sooner had Middletown Hospital opened its doors in 1917 than it was put to the test by a massive flu epidemic. The city was crippled, physicians were worn out and many people died from flu-related pneumonia. The 28-bed hospital was so overwhelmed that some patients were put on cots in the Elks Lodge. City officials, industry leaders and doctors realized it was already time to plan an expansion. Soon after, citywide fundraising began for an addition to the hospital.
Dr. Gerber was among the first physicians to practice at the new hospital. He was known for his compassion, extraordinary listening skills and early focus on healthy living. He was so grateful to be able to attend medical school, while his brothers worked on the family farm, that he paid for his niece and three nephews to attend college. Dr. Gerber retired in 1955, but in 1972, at age 91, he was still at work, assisting his son in the operating room three to four days a week. In fact, many of those patients were people he had brought into the world.
E. O. Bauer, MD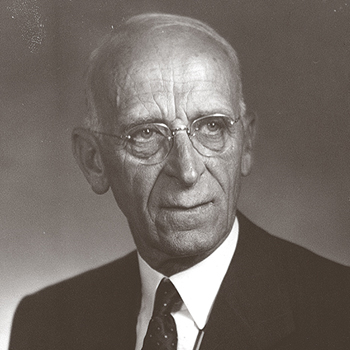 The son of German immigrants, E.O. Bauer grew up in Batavia, where his family tenant-farmed until they were able to buy their own land. E. O. left the family farm but never strayed too far from the land. He owned a small farm with one of his brothers and after his retirement, loved to fish, hunt and garden.
Like Dr. David Gerber, E. O. Bauer began his career as a teacher, then entered Miami Medical College. After his 1909 graduation, Dr. Bauer served as general surgeon at Cincinnati General Hospital for two years. Plans for building Middletown Hospital were already underway when he opened a general medicine practice in 1911. He jumped right in to help find a location and plan the facility.
Dr. E. O. Bauer is responsible for a number of hospital firsts. When the hospital opened in 1917, he was its first surgeon and held many leadership positions until his retirement in 1953. He admitted the first patient to the new hospital and performed the first surgery, a successful appendectomy. In 1921, he performed the hospital's first blood transfusion, heralded by the Middletown Journal as a "miracle of modern medicine." Dr. E. O. Bauer died in 1968 at age 86, after a lifetime of helping to set the hospital's direction.
In 1947, his son, John "Jack" Bauer, began his solo practice in Middletown as an internist, with an emphasis on cardiology and geriatrics. Jack was often described as "a doctor's doctor." The younger Dr. Bauer followed in his father's footsteps and also served in hospital leadership positions. The Bauers' legacy of service continues with family members, especially Jack's daughter, Peggy Dobrozsi, active with the hospital and Foundation today.
2016 Contemporary Physician Hero
W. Thomas Scott, MD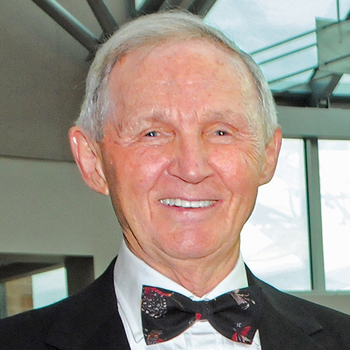 Dr. Scott came to Butler County in 1966 to found Middletown Medical Associates, an internal medicine practice, along with Walter H. Roehll Jr., MD, and another partner. Over the years, he became a beloved community physician with a reputation for excellence and compassion. His colleagues, coworkers and hospital staff admired his empathy and dedication, as well as his calming influence in times of stress. Dr. Scott retired in 2003, but remains active in the community and with his family. Those who know him describe Dr. Scott as a man of many interests, passions and friends who is steadfast in his support, sincere in his relationships and persevering through challenges. He has received many accolades, including a 2013 award recognizing his selfless caregiving.
Dr. Scott and his wife, Bonnie, are long-time supporters of Atrium Medical Center Foundation. Driven by a love of nature and their family farm, the Scotts gave the large blue spruce that graces the hospital's main entrance and co-created an endowment to support the hospital's outdoor artwork. The couple are members of the Heritage Society, for those who have included the Foundation in their estate plans, and Dr. Scott currently serves on the Heritage Society committee.