Our 2020 Gala Honorees
Atrium Medical Center Foundation celebrates the contributions of our 2020 heroes:
Community Heroes
Dr. Bruce and Neila Barnes
Physician Heroes
Raymond Kiefhaber, MD
They join our previous honorees:
2016
Our founding families, headed by:
George M. Verity
Colin Gardner Sr.
George Harvey
Pioneers in building a healthier community:
Mabel E. Gardner, MD
David F. Gerber, MD
E. O. Bauer, MD
Contemporary Physician Hero
W. Thomas Scott, MD
2013
Jerry D. Hammond, MD
G. Robert and Patricia Miller Gage
2010
Walter H. Roehll, Jr., MD
Arthur and Ann Bidwell Family
2007
E. Ronald Oches, MD
Wilbur and Mary Jean Cohen
2020 Community Heroes
Dr. Bruce and Neila Barnes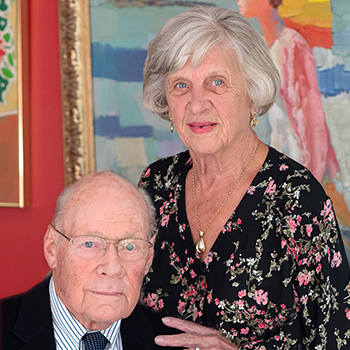 Atrium Medical Center Foundation's 2020 Community Heroes, Dr. Bruce and Neila Barnes, have lived in the Middletown area for more than 60 years. Both Dr. and Mrs. Barnes have made their mark on the hospital and the Foundation. Mrs. Barnes's volunteer work includes chairing the Middletown Area Federation of Women's Clubs' Charity Ball in 1978 and serving on the Foundation's gala committee since the first event in 2007. Dr. Barnes is a long-time member of the Middletown Fine Arts Center board, where he garnered two service awards. He also served as president of the Butler County Dental Society.
In 2003, the Foundation's board of directors asked Dr. and Mrs. Barnes to co-chair a new initiative called the Heritage Society, composed of supporters who include Atrium Medical Center Foundation in their estate plans. A two-year term turned into more than 16 years. Under their stewardship, the Heritage Society has grown to more than 90 members.
2020 Physician Hero
Raymond Kiefhaber, MD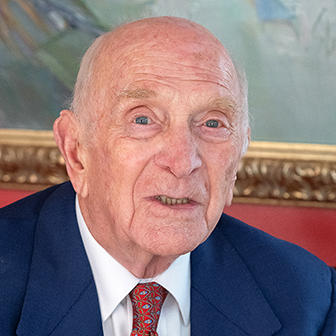 Dr. Raymond Kiefhaber, known to family and friends as "Senator," is Atrium Medical Center Foundation's 2020 Physician Hero. He not only witnessed much of the hospital's growth firsthand, he also helped make it happen. A pioneering orthopedic surgeon, Dr. Kiefhaber practiced in Middletown from 1960 until his retirement in 2010. Over the years, he has worked alongside five hospital presidents. He was a trustee on the board of Middletown Regional Hospital for 27 years and served as chief of staff from 1971 to 1973.
He and Jean Anne, his wife of more than 60 years, were ardent supporters of the new Atrium Medical Center campus. Dr. Kiefhaber was among a group of Middletown leaders who in 1984 established Atrium Medical Center Foundation. He currently serves on the Foundation board, as he has done a number of times in the past. Jean Anne has been a hospital auxiliary member for over 55 years.