Detection And Prevention
Patients have the best chance for successful treatment when breast cancer is found early. All women with average risk should have a mammogram every year, beginning at age 40. A physician order is not needed for women 40 and older.
Premier Health Mammography Procedures
Mammography is an important tool in detecting breast cancer early. The diagram below, which was designed to help determine the most accurate and least invasive means for clinical evaluation of the breasts, will expedite patient care and reduce calls to the physician office.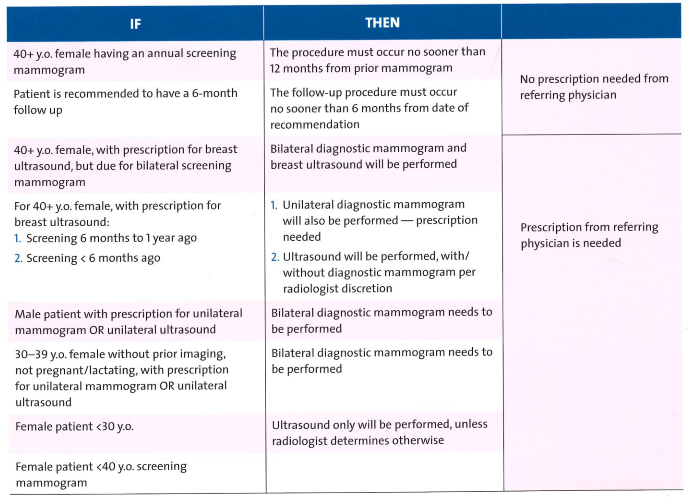 Screening Mammogram Algorithm
This screening mammogram algorithm outlines pathways for treatment based on the results of your patient's mammogram.
Screening Mammography At Premier Health
All Premier Health breast imaging centers, as well as our mobile mammography coach offer screening mammography using either traditional two-dimensional mammography or the newer three-dimensional Genius™ 3D MAMMOGRAPHY™, also known as tomosynthesis.

Breast cancer is the second most common form of cancer in women, according to the Centers for Disease Control and Prevention. Early detection increases the likelihood of successful treatment. Mammography remains the most common screening test for breast cancer.
Screening mammograms are for women who have no breast problems or complaints. Screening mammograms do not require a physician's order or prescription for women age 40 and over.

High-Risk Breast Cancer Centers
We offer this information for your patients:
Genetic Testing And Counseling
We offer this information for your patients:
If you are at increased risk for breast cancer, our genetic counselors at our High-risk Breast Cancer Centers can provide information, address your concerns, and offer testing when appropriate.
Contact Us
Premier Health offers an extensive network of experienced cancer specialists, close to home, who welcome your referrals. Find a cancer specialist best suited to your patient's unique needs.

Our cancer specialists have access to nationally recognized cancer care protocols and best practices, since Premier Health is a certified member of MD Anderson Cancer Network®, a program of MD Anderson Cancer Center.