Gail Crump MS, APRN, CNRN, FNP-BC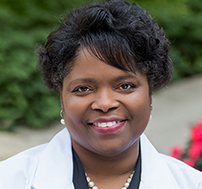 Gail Crump has been a nurse since 1988 at MVH. She earned her Bachelor of Science degree in Nursing from Capital University in 2005, and her Master of Science degree from Indiana Wesleyan University in 2007.
In her role as a certified nurse practitioner, Gail works collaboratively with the Clinical Neuroscience Institute team, providing care to neuroscience patient's hospitalized and in the stroke clinic. Prior to joining the Clinical Neuroscience Institute, Gail worked as a neuroscience nurse practitioner at Miami Valley Hospital. Gail is also the team leader for the APN's at the Clinical Neuroscience Institute.
She is certified in Basic Life Support (BLS), Advanced Cardiovascular Life Support (ACLS) and Certified Neuroscience Registered Nurse (CNRN). She is an active member of the Ohio Medical Reserve Corps (OMRC).