Angie Holthaus, MSN, FNP-BC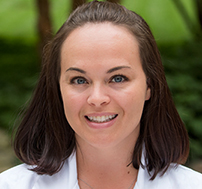 Angie Holthaus earned her associate degree in Nursing from Sinclair Community College in 2007, her Bachelor of Science degree from Wright State University in 2009, and her Master of Science degree in Nursing from the University of Cincinnati in 2014. Angie is certified by the American Association of Nurse Practitioners. She is a member of the American Academy of Nurse Practitioners and the Ohio Association of Advanced Practice Nurses.
In her role as a Family Nurse Practitioner, she serves patients in the Dayton area at Miami Valley Hospital. Angie is part of the general neurology team, and cares for stroke patients in both inpatient and outpatient settings.
She is certified in Basic Life Support (BLS) and Advanced Cardiovascular Life Support (ACLS).